MAT Book Review Instructions Essay Sample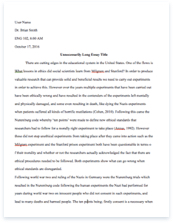 The whole doc is available only for registered users
OPEN DOC
Download Essay
A limited time offer!
Get a custom sample essay written according to your requirements urgent 3h delivery guaranteed
Order Now
MAT Book Review Instructions Essay Sample
1. Abstract. Summarize what you have read and boil the book down into 400–600 words (no more than 2 pages). Prove you comprehend the readings by writing a no-nonsense summary. The abstract is not a commentary or listing of topics but rather an objective summary from the reader's viewpoint. Abstract equals "boiled down." This section must include a minimum of 2 footnotes to the text being reviewed.
2. Concrete Response. Get vulnerable! In no less than 250 words and no more than 1 page, relate a personal life experience that this book triggered in your memory. Relate your story in first person, describing action, and quoting exact words you remember hearing or saying. In the teaching style of Jesus, this is a do-it-yourself parable, case study, confession. You will remember almost nothing you have read unless you make this critical, personal connection. What memory came to mind? This is your chance to tell your story and make new ideas your own.
3. Reflection. This is the critical thinking part of the review (not critical in the sense of negative, but in the sense of questioning). In no less than 250 words and no more than 1 page, describe what questions pop up for you in response to what you have read. Keep a rough note sheet at hand as you read. Outsmart the author by asking better questions than he/she raised in the book. Tell how the author could have made the book better or more appealing to those in your field of service. One way to begin this section is by stating what bothered you most about the book. This is not a place to provide an endorsement or affirmation of the book.