Mentorship: Education and Ted Stockings Essay Sample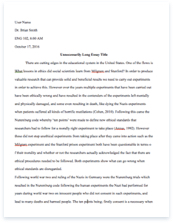 The whole doc is available only for registered users
OPEN DOC
Pages:
Word count: 4115
Category: learning
Download Essay
A limited time offer!
Get a custom sample essay written according to your requirements urgent 3h delivery guaranteed
Order Now
Mentorship: Education and Ted Stockings Essay Sample
1. Discuss the reasons and rationale as to why TED stockings are used in practice. 2. Demonstrate in line with trust policy correct measurement and application of TED stockings 3. To name three reasons why some people cannot have TED stockings.
The running order for this session will be as follows
* Talking: Introduction – 2 mins
* Hand-out: TED stockings – 5 mins
* Demonstration: How to measure TED stockings and apply- 5 mins
* Discussion: Experiences of learner – 5 Mins
* Discussion: Recap learners telling me what they learnt – 3 mins
* Talking: Question & Answer – 2 mins
* Written: Feedback forms to be filled – 5mins
Additional learning resources were given to the learner
Powerpoint presentation handout and TED stockings and measuring tape . My evaluation tool for the session is attached: Yes
Evaluation Form
What was the overall aim of the session?
What was expected of you as the learner would know/be able to do by the end of the session ?
How was the session introduced?
How was it developed?
How was it concluded?
What teaching method was used?
What involvement did you as a learner have?
How was your learning assessed?
Comment upon the
Level of delivery:
Effectiveness of delivery:
Thank you very much for your feedback
Assessment Plan
Date of the teaching session: 24/10/12
Location: Patient Day room
Start Time: 13:30 End Time: 13:45 The title of the session is: Anti embolism stockings (TEDs) application safe positioning and posture. The experience of the person being assessed?
1st surgical placement adult branch 2nd year student.
The skill needs an assessment because prior teaching given to ensure knowledge has been retained and can be put into practice. The assessment criteria to assess the student has been deemed competent in the skill are: 1. Safe administration of TEDS discuses checking drug chart for prescription. 2. Safe measuring of stockings as per trust guidelines. 3. Safe application of TEDs on patient.
The questions and answers I have developed to test the learners understanding for this assessment are 1. Discuss the reasons and rationale as to why TED stockings are used in practice area? 2. Why TEDs are to be prescribed?
3. To name three reasons why some people cannot have TED stockings?
Mentoring and enabling learning in a practice setting
Part one: Introducing the Mentorship role.
I am a registered adult nurse, with a year's post graduate experience in surgical nursing. I work in a busy ward in an inner London hospital. Whilst in practice I support students and junior members of staff with their educational practice development. The Nursing and Midwifery Council (NMC, 2008) states that you must facilitate students and others to develop their competence. This is further supported by Hand (2006) who says teaching is an important part of the health professionals role, hence most healthcare profession's are expected to teach other staff,students,patients and relatives. During my appraisal with my line manager I identified the mentorship course as a learning need I wanted to undertake for my personal and professional development. According to the Department of Health (2001) cited in Thompson (2004) reinforces that professionals must continually update and extend their knowledge and skills in their clinical area.
The NMC define a mentor as a registered nurse who has undergone an NMC accredited mentorship preparation programme, who will facilitate learning and is able to supervise and assesses students on the same part of the register as themselves in the clinical area. The Royal College of Nurses (RCN, 2000) adds to the definition by stating that a mentor is a positive role model who is knowledgeable and a skilled registrant who offers support and guidance in the practice area. Whilst Hamilton (1981) describes the word mentor is a synonymous to wise, faithful, guardian and teacher (cited in Morton-Cooper and Palmer,p.37) Given all the above definitions one can conclude that the word mentor is difficult to summarise into a simple definition. Hence the role of the mentor in nursing is a fundamental one that impacts on the quality of future practitioners and patient care. Part 2: Application on the NMC standards.
I will explore the NMC (2008) standards to support learning and assessment in practice. The document was put in place to safeguard the health and wellbeing of the public; there are five principles, eight domains and twenty-four outcomes set out for registered practitioners to achieve to be a mentor. The NMC developmental framework was produced to facilitate and inform professional and personal development. It informs registered practitioners of the skills they need to apply when supporting the learning and assessment of students undergoing NMC approved pre- registration programmes in practice settings. I will analyse two domains which I believe are done well in my ward. The domains I will examine are effective working relationships between students and staff and create a learning environment.
The foundation of establishing effective working relationships begins with staff and students showing each other mutual respect and trust. Whilst there is always a responsibility on both participants to form such a bond, RCN (2007) stipulates it is the mentor's responsibility to establish an effective working relationship with a student. In my practice area the formation of this begins with orientation; which involves introducing new staff to the ward's philosophy, vision, expectations policies, procedures and specialist equipment. REFERENCE The students first priority when allocated to a placement is to become part of the team (West,2007).This is made easier for the student if the mentor openly acknowledges the student ,this in turn enable the student to feel valued. West.S (2007) A good placement experience :the student's perspective of their needs in the practice setting. Garvey.B. Mentoring in a coaching world.
Morton-Cooper A, Palmer A. (2000) Mentoring, Preceptorship and Clinical Supervision. A guide to professional support roles in clinical practice .2nd ed. London. Blackwell Science Ltd Royal College of Nurses (2007)
Castledine (2002) has suggested that clinical placements are not always welcoming and attractive to students resulting in students feeling they don't belong. However the NMC dictating that registrants have no choice about mentoring is not right as not everyone wants to be a mentor .So having to undertake the role can be stressful for the practitioner and so much so for the student Stengelhofen (1993) states that supplying the information pack reassures students that they will not b e required to do anything they are not competent to do. On commencing employment all registered practitioners undergo a mandatory co-mentorship study day provided by the trust. This enables registered nurses to be able to aid and facilitate students learning as per NMC code of conduct (2008). Whilst in practice students are supernumerary and work alongside trained nurses who help them with their learning.
We ensure students are part of the team by introducing them to other members of the multi-displinary team (MDT) and offer them the opportunity to work with specialist nurses in the urology clinic .The manager carries out weekly ward meetings discussing any developments of the week and students are offered the opportunity to contribute to these meetings. Students are also asked to identify topics they would like to know about and teaching sessions are normally arranged in our day room when available as there is no designated are. Alternatively quick teaching sessions could be carried out at the handover sessions by the nurse's station. On other instances students are offered a choice as to how they would like their teaching session delivered.
The more comfortable and safe a student feels within an environment, the more likely effective learning will take place and the more motivated to learn (Kenworthy and Nicklin, 2000). KL NMC (2008) states at least forty per cent of a student's placement time should be spent directly with their mentor however this is not always possible due to work patterns, people on sick leave each student is also allocated a co-mentor to work with, to support the student's developmental progress. WHAT DOES IT DO TO THE MENTOR CO MENTOR STUDENT ANALYSE In conclusion I found that the positive learning environment, establishing effective relationships and the six other standards entwine into each other. A positive learning environment and a positive relationship between students and staff is very important and work hand in hand to ensure students feel satisfied in the practice area therefore motivated to develop their skills.
Part 3: The teaching session.
I began by looking at different models and theories of learning. Pavlov (1920) citied by Howard (2004) states that behaviourist theory is used to shape the intellectual developments of students, which is arguably not appropriate in nursing. Whereas, the humanistic theories approach, involves the study of man as a human being with his thoughts, feelings and experiences (Quinn, 2000). Rogers (2002) adds that it is important to know the feelings of the student and to be able to recognise their individuality. Honey and Mumford (1986) go further and identify that different learning styles among learners include: activists, pragmatists, theorists, and reflectors. Taking into account of all the varied models and theories of learning, I have tried to cater for all the learning styles in my handout. According to Knowles (1984) pedagogy is the art and science of teaching children, whereas andragogy implies that the student is responsible for their own learning and that learning occurs as a result of the student's own effort (cited by Howard, 2003).
As the learner was an adult I used the andragogy approach to learning. Andragogy encourages a positive approach to learning where enquiry and autonomy feature predominantly (Knowles 1984, cited in Quinn and Hughes 2007). Murell et al (2007) states there are two theoretically different approaches to education; student centred and teacher centred. I chose to use a student centred approach to learning as it arguably facilitates better student participation and interaction with the environment, which results in the progressive development of knowledge. The topic I chose to teach on was the application of TED stockings. It is important the student sees the relevance of what they are learning in relation to the wider context of their course. I identified what the aims and objectives of the session would be, by following Bloom's taxonomy of educational objectives (1956) which addresses the cognitive, affective and psychomotor domains of knowledge. The cognitive domain is concerned with the learners' knowledge and their ability to apply it into practice (Jarvis and Gibson, 1997). Whereas the affective domain is about attitudes and values of what is acceptable (Rogers, 2002).
Alternatively the psychomotor domain refers to the ability of clinical skill performance (Quinn and Hughes, 2007). After morning handover I informed the student and the assessor that I would be conducting a teaching session at 1300hours in the patient day room. I went to the patient day room at 1230hours to prepare my teaching aids. However on entering the room relatives were waiting for a patient who had gone to theatre. I asked the ward manager who was also the assessor to use his office, which he agreed too. I chose this room because it is spacious and private whereas I thought the nursing station would cause constant interruption and be distracting. On entering the office I opened the blinds and a window to ensure adequate lighting and ventilation was available. Ewan and White (1996) believe that an environment conducive to learning is achieved through adequate ventilation and comfortable seating. I rearranged the seats and ensured they were facing a central point in which I would be standing in whilst undertaking the teaching session.
Seating arranged in a semi-circle encourages learners to take an active role in a presentation (Wallace, 2002). This is further supported by Quinn (2000) who states that seating arranged in this way can create a sense of equality and improve the intimacy of the group by fully engaging learners. I printed out handouts of my presentation and informed the participants about the change in venue. Hinchliff (2004) acknowledges that handouts are a good teaching tool as they enable students to concentrate on what the practitioner is saying instead of trying to write notes. Hooks (1999) cited in Young et al (2007) states that smaller classes have better teacher student interaction whereas classes that are full in which the teacher no longer knows the learners name, the effort to build a learning community fails. One student and the assessor were present for the teaching session, when they were seated I introduced myself and thanked them for making the time and effort to attend.
I then distributed the handouts and evaluation sheets (see appendix 3) for them to review and complete after the presentation had finished. The aims and learning outcomes were clearly identified on the first two slides of the handouts to provide the logical sequence of the presentation. It also allowed the student to recognise what they were going to learn (Hinchliff, 2004). I developed a lesson plan (see appendix 4) to keep me focused and help me adhere to the time frame set out. I informed the audience of the length of the presentation, and asked them to complete the evaluation forms at the end of the session. Before initiating the teaching session I thought it was important to assess the baseline knowledge of the student. I used the knowledge category according to Bloom's taxonomy (1956) and asked the learner what they knew about TED stockings.
During the presentation I directed open ended questions to the audience in order to keep their attention and facilitate a student centred approach to learning. Mallett and Bailey (1996) write than an open ended question is prefixed by words such as 'when', 'what' or 'how', to discourage a 'yes' or 'no' response. Such questions are an integral part of the teaching process; and places students in the role of active learners, assisting them to develop higher level cognitive skills (Young, 2007). I also made a conscious effort to maintain good eye contact with all participants and not to focus on one individual, as this could have been an uncomfortable experience for the individual and misconstrued as showing favouritism or ignoring the other learners. According to Hunt et al (2009) good eye contact tends to increase the credibility of the presenter. According to Thomson citied in Hinchliff (2004) you must make learning fun for your audience as they are much more likely to remember it then.I also decided to incorporate some light humour into my presentation, taking care to link it to the context of my teaching session.
Davis (2005) recommends starting a lecture with something novel, incongruent or emotional, like a joke, storytelling, or demonstration. Parkin (1989) citied by Hinchliff (2004) describes humour as one of the most important qualities of a good teacher. I also made a conscious effort to maintain good eye contact with my audience and not focus on one individual; this might be uncomfortable for the individual and be misconstrued as showing favouritism or ignoring the other audience members. According to Hunt et al (2009) good eye contact also tends to increase credibility of the presenter. Applying the humanistic approach to teaching allowed learning to be a partnership between the student and myself. I addressed both participants by their first names to increase the feeling of belonging as the group. As adults learn best in an environment that is psychologically comfortable where there is mutual trust and respect for their own worth and that of others (Knowles, 1990).
After finishing my teaching session I gave the student the opportunity to ask questions. I used silence and pause techniques to encourage the student to ask and with the help of my assessor, I was able to answer questions which facilitated greater interaction.(Phillips et al, 2000). The student engaged more freely and described what they understood of the theory linked to practice, and the importance of correct application of TED stockings. Learning should be active and not a passive receipt of knowledge and skills as students tend to lose concentration when information is given to them without them participating (Downie, 1998). On reflection I realised that I stuck to my lesson plan and time frame. The feedback from the assessor supports this I was able to sustain the attention of the student throughout the teaching session I never got the opportunity to rehearse my teaching session prior to teaching it Part 4: The assessment session
Assessment theories
Assessment is defined as a measurement of a students learning, which is achieved as a result of a teaching session (Hincliff,2004, p.128). Hincliff (2004) goes further to define evaluation as the process of making judgements and decisions about achievements, expectations and the effectiveness and value of what we are doing. Evaluation does not only occur at the end of the learning experience but rather ,it is an vital ongoing development and evolution of teaching and learning. If a practitioner does not self evaluate herself there is tendency to carry on as usual ,therefore self evaluation is essential whereby allows her to reflect and prepare herself for future practice. We would use SWOT analysis which I demonstrated on the assessor how we measure and apply TED stockings. I ensured to reemphasise the points of maintaining a safe position and ensuring patient is comfortable.
Demonstration Whilst I was doing the demonstration I asked the student to guide me on any areas I had missed or what I was to do next. Jarvis and Gibson 1997 pg 87 state having witnessed an expert performance ,leaners are then expected to practise until they are as profiecient as the demonstrator.The student was given the opportunity to demonstrate however I had to remind the student to adapt her body positioning as she would hurt her back if in correctly positioned herself. The student adapted her position and continued to correctly apply the TEDs .The assessment checklist was used in my head to ensure the student had done what I had taught .I chose to teach then assess rather than assess and teach so I could determine if some knowledge had been retained as Leonardo Da Vinci states practice without theory is like a man who goes to see without a map (cited in Kilgallom et al (p56) Bennett (2003) states students should be expected to direct their own learning, act professionally, maintain effective communication and receive constructive criticism Giving the student feedback I found moderately felt uncomfortable however used the feedback sandwich.
The student had compromised her back positioning however on discussing with her she explained it was due to the assessor being the ward manger she felt she had to do it a certain way.The problem with the session was simply that the environment made the student still feel unequal to the assessor and did not understand it was I that was getting assessed and not her. Neary(2000) and Gopee (2008) both agree tht it is important for the mentor to give constructive,honest feedback and debriefing the student after a good and bad experience. Mentors assessment of students is a controversial are (Morto-Cooper et al argues that the mentors role is not compatible with the assesors role because it presents a moral dilemma between the guidance and conselling role and judgemental assessment role. Motivation influences learning and will affect the students level of interest application. Thomson(2004) states prompt feedback /feed forward on success pinpointing areas on which to concentrate to improve performance will help the student to develop a more realistic self concept. I ensured I developed learning materials that were engaging and stimulating intellectual growth, self concept awareness and accusation and build on the students existing knowledge. It is well established that students learn by doing ,through practice trial and error and repition on where appropriate.
A mentor has a pivotal position in working with students in an educational environment were theory and practice come together. Feedback from assessment whether the outcome negative can motivate the learner to progress and maintain high standards or improve low ones. Interractive discussions active participation was used to measure the effectiveness of the teaching and monitor student progress I used criterion referenced assessment as an type which measures students skills and abilities against quite specific and predetermined criteria which directly to the objectives set out in the assessment. Continuity can be achieved with the learner by moving sequentially through a topic in a logical manner.
Part 5: The leadership skills required by a mentor.
During the mentorship programme I have learnt two things about myself I have learnt that I have good negotiation skills as I was able to negotiate with my colleagues when an appropriate time would be okay for me to undertake my teaching session. negotiated time free of disruptions. My communication skills and problem solving skills are good as the venue for the teaching session was changed I was still able to find an alternative venue. However on reflection I do believe I struggled with the disruptions in my teaching session as they made me lose my line of thought.However this also az\ bb On analysis, I believe my teaching experience was a success – this is also apparent in my evaluation sheets. I achieved this by having a welcoming environment that was conducive to learning. I was well prepared and had everything ready in line with my lesson plan. According to Beck et al (2005) good preparation will lead to a successful presentation. Applying the humanistic approach to learning allowed learning to be a partnership between the audience and myself. In the moments leading up to my presentation I felt extremely anxious as everyone was staring at me.
Lincoln et al (1997) cited in Stuart (2007) states that it is generally acceptable that a degree of anxiety is present, as it is a healthy basis for growth and development for an individual. I felt stressed out at the thought of presenting my teaching session, that I forgot my opening lines. Bond (1986) states a nurse's task when seeking self awareness and ability to cope with stress is to become adept at noticing the onset of stress as to stimulation or rest. I was able to compose myself by rationalising my fears and anxieties in my head, and visualising myself as composed and confident person, a technique I had used in job interviews. This control mechanism is called visualisation, when you visualise how you want to appear to an audience (De Young, 2009). This allowed me to turn the stress into a positive experience, as it forced me to adapt to the situation, therefore increasing my coping skills.
If I hadn't taken control of my nerves at this point it would have had a negative impact on my learners. I would have lost credibility as a teacher and they would have lost their focus and attention. This is supported by Khleehammer et al (1990) cited in Stuart (2007) who states decreased learning occurs in the presence of high anxiety. Nicklin et al (2000) states that anxiety arises in new situations and changes in the body's normal response, such as respirations, circulation and muscle tone are evident. Throughout the presentation I ensured I controlled my breathing and paced the speed, pitch and tone of my voice. I made sure that I did not fold my arms or fidget with my fingers which De Young (2009) states can indicate to your audience that you are nervous. Once I had finished my teaching session I felt relieved as I could now sit down. However, I felt apprehensive as I was not sure of my performance and the feedback I would receive. In order for reflection to be constructive, critical analysis of knowledge and practice is important when dealing with negative feelings. (Boud et al, 1985).
In the future if I have to undertake the educator role I will hopefully not be as nervous, as teaching is seen as an important part of the health professional's role (NMC, 2008). I strongly believe that with further practice and exposure I can overcome my nerves as teaching is something that cannot be taught rather, improved by experience (Dewey, 1928 cited in Stuart 2007). To summarise, being a reflective practitioner is a time consuming yet worthwhile process. If done correctly it can positively affect professional development, leading to greater self-awareness and new knowledge about professional practice. Among many things the unit has enabled me to develop my confidence in public speaking, as well as giving me a new found respect for my teachers, whom I realise put a great amount of preparation, time and effort into teaching. Finally the most poignant thing I have learnt is that I actually really enjoy teaching.