Most Interesting Person You Have Ever Met Essay Sample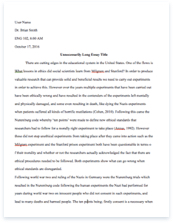 The whole doc is available only for registered users
OPEN DOC
Download Essay
A limited time offer!
Get a custom sample essay written according to your requirements urgent 3h delivery guaranteed
Order Now
Most Interesting Person You Have Ever Met Essay Sample
Since I can remember, I always adored recalling my past schooldays by looking through some old photographs of those years. A lot of them remind me of Sylvia, who used to be the most eccentric and original person in my school. Once, when I decided to make a thorough reorganization in my enormous collection of photographs, all my high-school memories about her were brought back. The main reason why I found her interesting was the way she dressed. Sylvia, who loved uncommon outfits, planned to study Fashion and Clothing at Newham College. I must say that she looked pretty funny in her short, multi-coloured dresses that usually were to tight for her. Her outfits were enriched by accessories such as fanciful hats, patterned tights, eye-catching handbags and plastic jewellery. She was a short and skinny girl, with dark complexion and green eyes. She was wearing funny, "Groucho" Marx glasses with thick colourful frames which made her face look bright and clever.
Her head was nodding back and forth as she walked, making her look like a pigeon that strutted around the square. Her thick, frizzy, brown hair that was standing right up on her head swayed back and forth as she nodded, making me think of dry straws on a field on a windy day. In spite of her strange appearance, Sylvia turned out to be friendly, caring person that not only never did any harm but also was always ready to help others. Moreover, she was a very intelligent and witty person who was also a brilliant storyteller. She told marvellous, humorous stories filled with wide knowledge of the world and personal experience, which she gained during numerous trips to Italy and Florence. Although, I lost touch with her after graduation, I will always remember her as the most extraordinary and interesting person in my school. In my opinion, combination of her positive energy and a vivacious personality, along with unusual appearance made her the most intriguing and memorable person and classmate.