Nakamura Company Case Essay Sample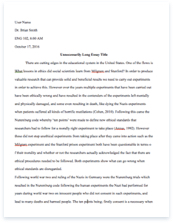 The whole doc is available only for registered users
OPEN DOC
Pages:
Word count: 1020
Category: company
Download Essay
Get Full Essay
Get access to this section to get all the help you need with your essay and educational goals.
Get Access
Nakamura Company Case Essay Sample
1) EXECUTIVE SUMMARY
Mr. Nakamura joined his handicraft business in 1948 & brought about few changes in technology. He had built a large business and the Chrysanthemum brand became Japan's best selling brand. But he had no business outside of Japan and the Japanese market was already flooded with lot of other handicrafts. So he needed to look for new markets. This was the situation when he received offers from two highly recommended U.S companies. Each offer has been evaluated in terms of brand representation, cost reduction and maximization of profit margin.
It is recommended that Mr. Nakamura should sign a deal with the
Sammelback, Semmelbach and Whittacker Company for growing his brand in the U.S market.
2) SITUATION ANALYSIS
Ours is an recognized brand in Japan but we don't have any business outside Japan. It is an popular brand among Americans, as evident by the sales to American tourists. Hence as an business strategy plan we need to take a decision looking at the available options. We have two good offers in our hand from recognized American Company. Since we are growing in Americans we can introduce our product in America. Currently Japanese government does not allow investing any money outside Japan. So a better way to penetrate the market is by entering the American market through partnership with other firms. There were few business constraints by working in Japan. Firstly the traditional handicraft method is too slow and too expensive also after using machine coating, polishing and inspection methods, which lead to low capacity to the company giving problem to demand fulfillment and profit maximization. Secondly, By employing several thousand men, The Company is producing only 500,000 sets of lacquer table ware each year.
3) PROBLEM STATEMENT
Business strategic plan for Nakamura Lacquer Company on expansion of company in USA
4) STATEMENT OF OPTIONS
Some of the options available with the company are:
1) Accepting offer of National China Company this are the following terms which would be applied if Nakamura Company Plans to deal with National China Company.
a. Introduction of lacquer dinnerware to a small but discriminating public in the U.S.A.
b. Annual purchase of 400,000 sets of the Nakamura lacquer dinnerware at 5 percent more for three years by the National China Company.
c. There wont be direct contact with the company since the lacquer dinnerware is delivered to the Japanese jobbers
d. Modification of brand name from "Chrysanthemum" to "Rose & Crown" till the above tenure.
e. Mr. Nakamura undertakes not to sell anyone else in the U.S. lacquer ware either with his brand or with any other brand during that period.
2) Accepting offer of Semmelbach and whittacker
a. It is foresighted that there is a market for at least 600,000 sets of the Nakamura lacquer dinnerware a year and within five years it should be a couple of millions.
b. Nakamura is not inventing any money during the promotion and introduction of "Chrysanthemum" brand that is budgeted $1,500,000 for the next 2yrs.
c. "Chrysanthemum" brand will be excusively represented for five years at standard commission rates.
d. First 20 percent on all the sales during that time which is roughly the Nakamura profit margin be used to pay off the money that actually is spend for promotion and introduction as certified by a firm of indepedant accountants whatever Mr. Nakamura name it.
3) Rejecting both offers
4) Exploring new opportunities in international market.
5) CRITERIA OF EVALUATION
The criteria which I have selected for evaluation are :
1) Brand Identity: To make our brand recognized all over world.
2) Profit Maximization: To make more profit and expand the company
3) Expansion: It could help us achieve both the above goals.
4) Cost reduction: How to reduce our cost and at the same time achieve goals.
5) Reputation of both the companies in USA
6) EVALUATION OF OPTIONS
The following chart helps us the evaluate the comparative analysis of the three conditions.
Options
Criteria
National China company
Semmelback, Semmelback, Whittaker
Self – Operating
Profit Maximization
420,000 per year
600,000 per year
500,000
Risk involved
Less
High
None
Brand Identity
Lost
Retained
Retained
Production Capacity
Capable- 400,000
Incapable- 600,000
Capable-500,000
Operation segment
Domestic dinnerware
Commercial lacquer
Domestic dinnerware
Unit Expansion
Will do with the present unit size
Need for expansion for 100,000 production units.
No need for expansion
Government Regulations
Applicable
Applicable
Not applicable
The major draw back of National China company is that the our brand would be introduced under "Rose & Crown" in U.S.A. which is National China Company's Brand. Our Brand identity is lost by doing so which is a big loss for us. So options 2 or 3 are better if we want to continue with our brand identity.
Looking at short run profits wil be higher in options 1 but option 2 will give us more profit after recovering the expansion cost.
Option 2 is the best if we look at the expansion point of view.
7) RECOMMENDATIONS
Looking at our objective goal of expansion, profit maximization and brand identity. The deal with Semmelback, Semmelbach and Whittacker Company seems to be the perfect. It will need an investment in expansion so it has high risk but return will be higher if we are able to recognize in the American market.
8) PLAN OF ACTION
Next step should be to take proper Government permission and start looking out for the best ways to recover the money for expansion. Then he also need to alter his techniques to increase the production of sets as required and also increase the production to at least 600,000 sets of lacquer dinnerware by employing more men and by using more advanced technique.