Netball Analysis Essay Sample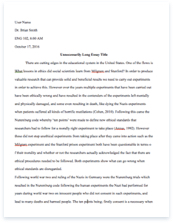 The whole doc is available only for registered users
OPEN DOC
Pages:
Word count: 525
Category: game
Get Full Essay
Get access to this section to get all help you need with your essay and educational issues.
Get Access
Netball Analysis Essay Sample
During the netball game my position was as a goal defender and I mainly concentrated on attempting to intercept the ball from the opposition and safely pass it on to either the centre or the goal attacker. I intercepted the ball several times from the opposing goal attacker, I also attempted to be clear in a clear and open space at all times. The tactic that our team produced was to try and make short but safe passes to the position ahead of us e.g. from the goal attacker to the goal scorer. This tactic did prove to be extremely useful. We also all attempted to all mainly use the roll off dodge because in other practices it proved to be very effective; we all still however used every other dodge when we thought that it would be most efficient.
The whistle was blown twice in the game while I had possession of the ball. Both times however were due to the opposition's mistakes, such as making mistakes with their footwork as well as performing a foul against me. I do think however that at one point the referee did not notice when I had accidentally hit the opposition in the effort to hit the ball out of his hands. In the game I did try and think that I did successfully kept one metre away from the opposition and I did place my hands as close to the ball as possible making it very difficult for him/her to successfully pass the ball. I did find myself without a marker at most times and I tried to make them tired by constantly changing my position and trying to keep them as well as my self on alert and them on their toes. I think that I could become better at netball by constantly looking for space and to place myself in a position that will either hinder the opposition's attack or contribute to the teams attack. I think that I lost most marks by landing on one foot instead of two feet, this making it easier and giving me a choice on which of my two feet to pivot on.
When I would be intercepting or catching the ball in anyway I would: (if jumping land on two feet), if I caught it from when my feet were placed on the ground I would step back while catching it to get a firmer grip, while picking which foot I want to pivot on. When I would perform a chest pass I would step forward while throwing the ball from my chest to preferably the other team players chest that is on my side thus performing a flexion movement.
I think that my overall mark for the netball module may be a six going on to a seven; I think that my mark for my actual game play would be a seven maybe going on to an eight. Whatever mark I get I will approve of mainly because I have learnt a great amount of things that I didn't previously know and so I can feel more confident when playing netball.