Organizational Behavior – Challenges for Today's Managers Essay Sample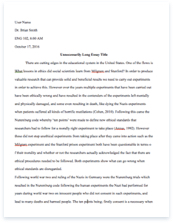 The whole doc is available only for registered users
OPEN DOC
Download Essay
A limited time offer!
Get a custom sample essay written according to your requirements urgent 3h delivery guaranteed
Order Now
Organizational Behavior – Challenges for Today's Managers Essay Sample
Organizational Behavior is a field of study that investigates the impact that individuals, groups, and structure have on behavior within the organizations and its effective use for the purpose of such knowledge towards improving its performance. Similar to the evolution of man and its environment there has been a substantial change in the approach for better productivity within an organization through the brainstorming efforts applied by a good manager. Understanding organizational behavior within a corporation and particularly the factors influencing the organizational behavior of a single entity has become the key to the success of any manager. There is no one single approach to organizational behavior which is best for all organizations; instead, companies must evolve the system which works best for them with the help of effective planning and technological support which changes over time as their environment and the individuals within that environment change.
Organizational Behavior – Challenges for Today's Managers
One of the primary tasks for managers is to manage people (Robbins 2000). The study of Organizational Behavior (OB) focuses on factors and issues involved in human behavior related to jobs, work, absenteeism, employment turnover, productivity, human performance, and management, each of which is directly related to job responsibilities of a manager. Thus study of organization behavior increases manager's effectiveness.
In my organization, the term OB actually refers to the behavior of people within the organizations, as organizations themselves do not perform without people and an efficient manager. My role in effective financial planning management is to understand Mayo Clinic's role in providing best standard of healthcare with optimum value for money to our patients. This is achieved by providing specific understanding of our core values to every person within our organization. OB tries to understand the behavior, attitude, and performance of people in organizations. It is a study of human behavior in the workplace, the interaction between people and the organization, and the organization itself. As per Robbins (2000) "OB is a field of study that investigates the impact that individuals, groups, and structure have on behavior within organizations for the purpose of applying such knowledge towards improving an organization's effectiveness". We at Mayo Clinic understand the importance of OB and its impact to provide best healthcare services by putting customer (patient) first for every service offered.
Apparently to provide best service, Robins, De Cenzo (1995) states, "OB is like an iceberg as where lot of organizational behavior is not visible by naked eye. What we tend to see when we look at the organizations are their formal aspects like, strategies, objectives, policies and procedures, structure, technology, formal authority, and chains of commands. But just under the surface there lie a number of informal elements that managers need to understand. OB provides managers with considerable insight into these important, but hidden, aspects of the organization". That is where an efficient manager can make a huge difference in defining how the people within ones organization and their behaviors influence the performance attitude of the organization.
There are a number of behavioral disciplines that contribute to organizational behavior like psychology, sociology, social psychology, anthropology, and political science. Understanding these disciplines could improve the productivity within an organization.
In an organization there are three goals of OB that is specifically to explain, predict, and control human behavior. We at our organization use these goal outlines while we seek answers to why an individual or group did something, we are pursuing the explanation intent. It is probably the least important of the three goals because it occurs after the fact. If we are to understand something, however, we must begin by trying to explain it. The goal of prediction or anticipation focuses on future events to determine what outcomes will follow from a given action. We at Mayo Clinic feel that it is imperative that as a manager we use this information while making significant decisions. This is an integral part of our work culture as a responsible manager. The most controversial goal is using OB knowledge to control behavior. The idea that one person should attempt to get others to behave in a certain way, while the subjects may not know that their behavior is being manipulated, has been viewed in some circles as unethical and repugnant. While OB offers ways to control the behavior of people, whether those methods should be used is a question of ethics and debate.
In conclusion, managers need to develop their interpersonal, or people skills to be effective in their jobs. OB is a field of study that investigates the impact that individuals, groups, and structure have on behavior within an organization that focuses on improving productivity, individual employee job satisfaction, reducing absenteeism and turnover, and using systematic study to improve predictions of behavior. OB also recognizes and helps managers to see the value of workforce diversity and practices. Thus in my opinion, Organizational Behavior is one of the critical tool for today's managers work environment and it's importance cannot be emphasized more to improve performance as an effective team force.
References
Robbins, Stephen P., & De Cenzo, David A. (1995). Fundamentals of Management: Essential Concepts and Applications students. New Jersey: Prentice Hall, Inc. 4(225-226)
Robbins, Stephen P. (2000). Organizational Behavior [University of Phoenix Custom Edition]. Boston: Pearson Custom Publishing, 9.