Person Centred Approaches Essay Sample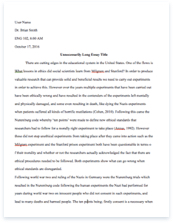 The whole doc is available only for registered users
OPEN DOC
Get Full Essay
Get access to this section to get all help you need with your essay and educational issues.
Get Access
Person Centred Approaches Essay Sample
1.1 Treating people as individualsMaking sure people have their privacyMaking sure people have access to their rights Treating people with dignity and respectSupporting people to be as independent.
1.2 Taking into account person centred values makes me work better for the individual person, rather than imposing my own choices on them and taking away their own right to independence and choice.
1.3 Taking risks means that you are able to choose and be in control of what you . A risk assessmet can always be carried out to see if it is possible for someone to do something that they thought would not be possible.
1.4 Using an individual's care plan will ensure that the person's own needs and wishes are being met, rather than offering them a 'choice' of what is available. Using their care plan, you can build on what they want and see where there are gaps that need to be addressed.
3.1 Explain the importance of establishing consent when providing care or support It is important to establish consent because it is a basic human right for everyone to have the choice. Much of the treatment or support the individual receives is either invasive or personal, so consent is essential Asking for consent is also part of the codes of practice for social care. .
3.3 If an elderly person, cannot give consent, either because they cannot communicate or because they cannot understand the question, the next of kin is usually asked., then parents, then children. Someone who states that they have knowledge of the persons wishes often can also give consent. If there is so one identified that can give consent the treating staff can act in what they reasonably believe to be the persons best interest in emergencies. If all of the above fails the courts appoint a guardian.
4.1 it promotes a persons independence, allowing the person to do somethings on there own, wth some degree of assistance which inturn builds their self confidence as they feel they are being treated like an individual.
4.2
There are immobility, memory loss, poor eyesight, deafness, depression, insecurity, sadness, chronic pain dementia.
5.3 I would support an individual to make informed choices by giving the individual full information with regards to the positive and negative effects of any decisions they make and respect their wish to make that decision. I would use agreed risk assessment processes so that the client was fully aware of any risks involved with regards to any decision they make and would also discuss this with my manager.
A workers personal view should not influence an individuals choices as everyone is an individual in their own right and and therefore should be able to make their own choices as their interests would be different to a workers. I would support an individual to question or challenge any decision made by others by giving the individual full information with regards to that decision in an unbiased manner, if the individual wanted to make any changes with that decision then I would discuss this with my manager and use agreed risk assessment processes to enable the individual to make those changes.
5.4 If an individual wasn't happy about something that had been arranged for them or if they felt that they had had no say in arrangements i'd Ask them what decisions they are unhappy about and what they wanted to happen Arrange for them to speak to the care planner, encourage them to say how they feel and what they want. If they want to make a complaint use your complaints procedure.
6.1 identity is what you think about yourself. like Are you confident independent , able, If so you will be positive and feel good, and be, happy. if you aren't independent, confident etc you feel negative Self esteem comes from a positive identity. If you are dependent on others, feel useless, don't have anyone who cares about you etc your self esteem will be low. 6.2 – Being caring – Listen to what the individual has to say (feelings and choices, opinions etc)- Being understanding and supportive- Positive comments/feedback- Ask questions; get involved with what they have to say or what they are interested in.- Calm approach, do not sound angry or negative, positive facial expressions- Ensuring the individual knows they have somebody they can trust Encouraging