Positive Reframing Essay Sample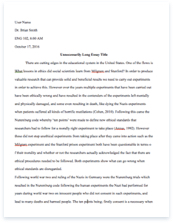 The whole doc is available only for registered users
OPEN DOC
Pages:
Word count: 423
Category: failure
Download Essay
A limited time offer!
Get a custom sample essay written according to your requirements urgent 3h delivery guaranteed
Order Now
Positive Reframing Essay Sample
In a paper published by the international journal Anxiety, Stress & Coping, Dr Joachim Stoeber and Dr Dirk Janssen from the University's School of Psychology describe a diary study that found these three strategies to be most effective in dealing with small failures and setbacks, and helping people to keep up their spirits and feel satisfied at the end of the day. For the study, a sample of 149 students completed daily diary reports for 3 — 14 days, reporting the most bothersome failure they experienced during the day, what strategies they used to cope with the failure, and how satisfied they felt at the end of the day. Their coping strategies included: using emotional or instrumental support; self-distraction; denial; religion; venting; substance use; self-blame; and behavioural disengagement. Of these, using social support (both emotional and instrumental), denial, venting, behavioural disengagement, and self-blame coping had negative effects on satisfaction at the end of the day: the more students used these coping strategies in dealing with the day's most bothersome failure, the less satisfied they felt at the end of the day.
In contrast, positive reframing (i.e. trying to see things in a more positive light, looking for something good in what happened), acceptance and humour coping had positive effects on satisfaction: the more students used these coping strategies in dealing with failures, the more satisfied they felt at the end of the day. Dr Stoeber, a leading authority on perfectionism, motivation and performance, believes that the findings of this study will be of significant interest to clinicians, counsellors and anyone working on stress research. He said: 'The finding that positive reframing was helpful for students high in perfectionistic concerns is particularly important because it suggests that even people high in perfectionistic concerns, who have a tendency to be dissatisfied no matter what they achieve, are able to experience high levels of satisfaction if they use positive reframing coping when dealing with perceived failures.' He added that a helpful recommendation for anyone trying to cope would be to try to find positive aspects in the outcomes they regard as 'failures'; and reframe these outcomes in a more positive way; for example, by focusing on what has been achieved, rather than on what has not been achieved. 'It's no use ruminating about small failures and setbacks and drag yourself further down,' he said. 'Instead it is more helpful to try to accept what happened, look for positive aspects and — if it is a small thing — have a laugh about it.'