Air Asia Cultural behaviour Essay Sample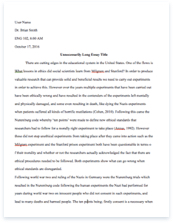 The whole doc is available only for registered users
OPEN DOC
Download Essay
A limited time offer!
Get a custom sample essay written according to your requirements urgent 3h delivery guaranteed
Order Now
Air Asia Cultural behaviour Essay Sample
Air Asia is a second Malaysian National Airline which provides a totally different type of service in line with the nation's aspirations to benefit all citizens and worldwide travellers. Such service takes the form of a no frills – low airfares flight offering, 40%-60% lower than what is currently offered in this part of Asia. Their vision is "Now Everyone Can Fly" and their mission is to provide 'Affordable Airfares' without any compromise to Flight Safety Standards (Air Asia, 2010).
The owner Tony Fernandes bought Air Asia from Malaysian government owned company in September 2001 for a cost of 1 Malaysia Ringgit. Air Asia was heavily indebted at the time and Tony Fernandes set about reforming the airline as a short haul low cost carrier, similar to those operating in the West at that time. The decision changed short haul flights around Asia and Tony Fernandes saw his business expand rapidly. The company grew from initial two planes in 2002 after its takeover to a fleet of 86 aircraft flying 30 million people around the world.
Today, Air Asia has flown over 30 million guests across the region and continues to create more extensive route network through its associate companies. Air Asia believes in the no frills, hassle free, low fare business concept and feels that keeping costs low requires high efficiency in every part of the business. Through the corporate philosophy of "Now Everyone Can Fly", Air Asia has sparked a revolution in air travel with more and more people around the region choosing Air Asia as their preferred choice of transport.
Central Issue
We want to find out what makes Air Asia so successful over these 10 years, what is the drive behind the organisation, is it because of the influence of Tony Fernandes, the working culture of the environment he created, the motivation that he gave to his staff? So I will be using Johnson and Scholes Cultural web to identify how Tony Fernandes as a CEO influence the whole organisation of Air Asia culture and its operation in various ways.
The Cultural Web consists of the Paradigm which can be identify as the pattern or model that make up of the six interrelated elements of the work environment (Manktelow). By analyzing the factors in each of the elements, we can see the bigger picture of Air Asia culture and find out what is working, what isn't working, and what needs to be change. We will understand better as to how the Paradigm influences the 6 elements are structured. The 6 elements are represented graphically as 6 semi overlapping circles which can be influencing the Paradigm but in our case it is influenced by the Paradigm.
Cultural Web Framework
Here we take a look at the 6 element of the framework.
Stories – The past events and people talked about inside and outside the company. Who and what the company chooses to immortalize says a great deal about what it values, and perceives as great behaviour (Johnson, 1997).
(Ionides, 2004) in the interview with Tony Fernandes, he mentioned when he first started the low fare airline in 2001 people were saying that it would not succeed in Asia region, "everyone thought we were crazy but I knew it would work" say Tony Fernandes, his positive attitude of serving the people with his vision of "Now Everyone Can Fly" and the concept of no frills, low budget and hassle free has succeed, he paid off the initial debt of 30 million ringgit within a few months.
At time Tony Fernandes will get some days to do some groundwork with his staffs, some time he can be at the baggage area loading the baggage into the plane, or if the planes were running a delay he may go out help out to clean up the plane (Fernandes, 2004), he believes that by doing so he can create cohesiveness in the organisational and therefore he gain much respect from the staff he work with. He once said one of the key success factors is to bring all staff together and have them respect each other's jobs, no one can thinks that they are more important than the other (Fernandes, 2004), to him his philosophy is to have all his employees always come number one, customers will come number, so when the employees is happy, they will serve the customer better.
Rituals and Routines – The daily behaviour and actions of people that signal acceptable behaviour. This determines what is expected to happen in given situations, and what is valued by management (Johnson, 1997).
Tony Fernandes has build up a culture where by people are allow to think and submit new ideas for improvement or feedback sending directly to him (Mertens, 2010). He created an environment where he treat everyone equally regardless of position and ranks, he can have coffee with his ground staff, walk up to any of his staff to do a "High Five" (Ionides, 2004), this creates an informal kind of working environment within an organisation where by every staff will feel that there are equally as important, they can feel that they are part of the team and not be left out, within their name cards there is no title on it and everyone is encouraged to use their first name (Govindasamy, 2009).
He is also often seen taking lead in building bond with the staff, sometime in his jeans and his signature red cap cleaning and unloading planes (Gluckman, 2009), this kind of hands on working style has led the management staff and pilots to follow suite which in term gain much respect from the staff and boost the morale to work harder for the company, everyone has a strong sense of ownership in the organisation.
Symbols – The visual representations of the company including logos, how plush the offices are, and the formal or informal dress codes (Johnson, 1997).
The Air Asia Logo is written in big red cursive letterings against a white background, their stewardess uniform are also in striking red which represent cheerful and happy colour. Tony Fernandes have so much pride for his Air Asia logo that he is always seen wearing his red baseball cap to his meetings and working around in the airport with his crew (Gluckman, 2009).
According to Fernandes (Govindasamy 2009), the slogan "Now Everyone Can Fly" is a promise for low cost air travel which is affordable to everyone. He added that, "If the airline dies, it will die as a low-cost airline". He ensures that Air Asia will remain a brand for low cost and will not change from this concept and the promise to its customers is that Air Asia will provide the lowest airfares and this concept have been driven into the mind of the staff who will helps to keep the cost as low as possible for its customers.
Organizational Structure – This includes both the structure defined by the organization chart, and the unwritten lines of power and influence that indicate whose contributions are most valued (Johnson, 1997).
Air Asia organisational structure is rather flat, Tony Fernandes had build up a culture in the company that has no hierarchy, a family like environment where by anyone can walk up to him, speak to him about anything, work suggestion or about a football match that happen yesterday (Govindasamy, 2009), there is no boundary or barrier between the CEO and his staff from all level. In the office he have this concept whereby all the staff be it marketing, finance, engineering, cabin crew or pilot will have the same working environment working together in one office, to him this helps the organisation communicate more easily (Fernandes, 2004).
He also come up with this policy whereby the pilot will cook breakfast for the engineers as a way to thank them for taking good care of their plane every quarter (Ionides, 2004), this I believe helps to bring cohesiveness in the organisation and it is a way to bring the message to the people where everyone is equally important and each play an important role in the whole system.
Tony Fernandes also once mentioned in an interview that (Govindasamy, 2009) "If there is a good idea, it can be implemented very fast as there is little bureaucracy, if there is a bad idea, we can kill it really fast too. That is how we do things that others may not try." This kind of flat organisational structure helps keep costs down, everyone under one roof contributing ideas and it allow efficiency in making decision.
Control Systems – The ways that the organization is controlled. These include financial systems, quality systems, and rewards including the way they are measured and distributed within the organization (Johnson, 1997).
Being a low fare no frills carrier, Air Asia has to do every means to control the budget and it operating costing, they have to stop serving food and drinks, cut its crew member from 6 down to 3 and only spend no more than 30 minutes on ground (Air Asia 2003) in order to pass the cost saving to the end user as a low fare affordable flight carrier. Another way that Air Asia does to keep its cost down is by leaning its distribution system, they don't have complicated distribution channel, and distribution is done mostly by Internet sales which ticket is purchase through their website and their sales office (Gluckman, 2007).
Power Structures – The pockets of real power in the company. This may involve one or two key senior executives, a whole group of executives, or even a department. The key is that these people have the greatest amount of influence on decisions, operations, and strategic direction (Johnson, 1997).
Tony Fernandes believes that every aspect of the business must be simplified so that the whole philosophy, vision, mission and objectives can be understood by all the stakeholders, especially the staff and customers (Air Asia, 2003). His management style shows transparency on decision making and high accessibility to media and investor community. He also emphasize that management must keep communicating with the staff and have daily interactions with them promoting sense of loyalty, dedication and commitment of the staff to the company (Finance Twitter, 2006).
Tony Fernandes also mentioned that he created this cadet pilot training program where former check in assistant, former accountant and former baggage handler were train to become pilot for the organisation (Ionides, 2004). This shows the Tony Fernandes is able to create opportunity for its employee and to those who want to improve or excel in their work he is willing to give him the opportunity to do so.
At time Pilot can be flexible and make suggestion to salvage a bad situation where there is a situation whereby a couple of pilots were stuck in a traffic jam and the plane is going to take off, he volunteer flying with his jeans if the company allow (Fernandes, 2004).
Argumentation/ Evidence
By analysing the details of the 6 element in the cultural web we can see that Tony Fernandes have a great influence over the organisational culture of Air Asia. We sees that he tries to mould the organisation in a certain way by setting himself as an example in various occasion.
He created this family like environment in the organisation allowing his staff to build bond with each others, we can also see that he don't want his management staff to just sit in the office doing their paper work not knowing what is actually happening on the ground therefore by setting himself as an example, he himself will get down to the field to work understand the staff working condition, which by doing so he is able understand the needs of the staff, giving them opportunities to go to the department they wanted to. Assume Tony Fernandes didn't go down for field work he wouldn't have know that his check in assistant and baggage handler had wanted to become pilot, he wouldn't have know that they needed a belt loader for his staff so badly.
In doing so he also created 2 things, he created cohesiveness in the organisational people of all level and different department work together understand each part of their roles they play therefore information can get through either bottom up or top down very quickly and efficiently, he also came up with the idea of allowing his worker to send feedback or suggestion directly to him which also cancel out the formal hierarchy system in most company. Workers of the lower level will feel that they are somewhat important to the organisation and won't feel being left out as attention is given to them, they can work in higher spirit providing better quality of work and better customer service which in the end is beneficial to the company.
At the end of the day this kind of culture might not have seen or work in all organisation, but in Air Asia it has certainly prove to work very well for him.