Principles of Business Sba Essay Sample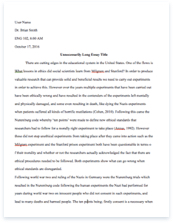 The whole doc is available only for registered users
OPEN DOC
Pages:
Word count: 1042
Category: brand
Download Essay
A limited time offer!
Get a custom sample essay written according to your requirements urgent 3h delivery guaranteed
Order Now
Principles of Business Sba Essay Sample
Appendix
The type of business in which I am involved is the cosmetic industry, operated as a partnership. The name of the store is Glambition (Be Powerful, Be Pretty, Be Glamorous) targeting an international market of adult women whose mission is to glamorise women and enhance their facial beauty.
The business is owned and operated by Briana Brathwaite and Stacy Bryant and has been opened since November 6, 2010. The contact info. is as follows:
Email: [email protected]
Telephone: (246) 427-8565
Website: www.glambition.com
Opening hours are as follows:
Monday – Saturday 10:00 a.m. – 9:00 p.m.
Online shopping is also available
ORGANIZATION OF MARKETING DEPARTMENT
In the business their will be 11 members of staff per store.
Roles of Staff Members:
← Manager: staffing, organizing, planning, leading and controlling. ← Supervisor: review job letters, plans daily schedule, helps colleagues with any issues, enforce discipline in the workplace. ← Cashier/ store assistant: restock shelves, count the amount of money in cash drawers, cash checks for customers, resolve customer complaints, answer customer's complaints and maintain clean check out areas. ← Cleaners: keep the store neat and organized also take care of any spills.
Market Research:
← At this stage, we are targeting the national market only
← Our target market is in the 15-25 age group
← We are only targeting females
We have made visits to different cosmetic stores around the country to find out which type of make-up is used regularly and who mostly uses it. My response was many women purchase eyeliner, mascara and eye shadow.
In this national market:
← There are 20,000 consumers in this age group
Price
The market is fairly price-sensitive. We have analysed the prices of the other brands, which sell similar cosmetics in the drug store at $10.50 for a foundation or powder and $18.50 at high-end department stores or their own individual store. (example: Cover Girl $10.50 to Mac $18.50 for a powder that is used for the same purpose) .
Competitors
Our closest competitors are two international brands. They are both well established. One of those brands has about 40% of sales while the other has 38% of women using their product.
Substitutes
← Mascara
Use: petroleum
How to use: A little Vaseline dabbed on your lashes with your fingertip will define them and help them glisten and catch the light.
← Foundation
Use: Loose powder or concealer mixed with moisturizer.
How to use: Pour some moisturizer into your palm, tap a little powder or a finger dab of concealer into it, and mix until it has the consistency of foundation. You may not want to make up your whole face this way since it can make the face look patchy and uneven. This can be used to correct the ruddy areas.
← Lipstick
Use: Blush.
How to use: Cream or powder blush dabbed on lips with a finger creates a soft, sensual look. For a creamier texture, top blush with clear gloss or a lip balm. It works in reverse, too: Use lipstick as blush. Keep in mind that lipstick has much more pigment than blush. To avoid going overboard, start with a tiny dab, then gradually increase the colour. Add a bit of moisturizer to blend it in.
Sales forecasts
We expect to capture 15% of the cosmetic market in our first year of business. In this industry it is estimated at 60,000 supplies per week or approximately 2.5million a year. |Product |Units/Mth (000) |Retail ($per unit) | |Mascara |2000 |$50.25 | |Lipstick |1500 |$45.25 | |Foundation |1000 |$40.25 |
Branding and Packaging
The cosmetics produced are branded under the name Glambition and it is a well known brand. The products carry a distinctive pink and purple logo of the company. Branding is very important since it allows the consumer to identify the manufacturer. Branding includes: ← Brand name selection
← Brand sponsor
← Brand name extension
Glambition launched it's new product, Glamorous Passion lip gloss. This name has been established in the minds of consumers as a quality product. It has made a name of its own and in the future we are expecting the same amount of sales or even bigger.
Glambition packages their products in brightly coloured (pink purple glitter) tubes and hard plastic containers. The colours used for the logo are very feminine and cute which represents the glamorous, powerful and pretty effects of the slogan.
Information give on package includes:
← Expiration dates
← Ingredients
Glambition's pricing strategy
Their strategy is to ensure the survival and existence of the building. It has been made possible to sell the products at the lowest price possible to get as many buyers as possible.
Place
The method by which products get to consumers is called channels of distribution. Glambition has a number of vehicles to deliver the products but most of the time the small buyers come to the warehouse or order online and we ship to any destination.
Promotion Mix
At Glambition we advertise our products by print, radio and television. Local businesses sponsor us with in store posters. The sales of our products are carried out by sales meetings and sales presentations. We promote our products by giving out coupons and samples. We also promote through contests.
Government Regulations
The Bureau-of-Standards recommends:
← Information must be written in English
← products must be labelled
← Value added tax (VAT) must be shown on the products also added into the price.
← All ingredients must be identified.
Technology
At Glambition we used machinery which helps us to keep the prices at a reasonable price. The machinery used is efficient and increases the productivity of the company.
Consumer Complaints
They are complaint offices in two locations around the island (Barbados). One is located on Broad Street Bridgetown, St. Michael and the other Sunset Crest St. James. Glambition addresses all complaints and has a four day response policy.
Ethical Issues
← Ingredients stated on the labelling and advertising must be accurate and not misleading
← Proper disposal of waste
← Money escorts to hide transactions
Conclusion
Key to success at Glambition are:
← Quality products
← Good distribution channel
← Good customer service
← High ethical and business standards