Principles of communication in adult social care settings Essay Sample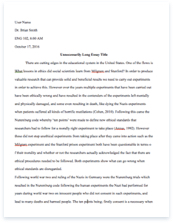 The whole doc is available only for registered users
OPEN DOC
Download Essay
A limited time offer!
Get a custom sample essay written according to your requirements urgent 3h delivery guaranteed
Order Now
Principles of communication in adult social care settings Essay Sample
Different reasons people communicate
Express emotions
Exchange information
Express views
Share experiences
Socialise
Establish relationships
Effective communication between customers and careers means the customer gets the care they require and helps make the carer aware of any problems the customer may have. Careers need to be able to let other careers, supervisors or management know if there's any concerns about a customer. Good communication helps to build trust between carers and customers. Effective communication helps to prevent misunderstandings between careers and customers.
By observing a persons reaction you can tell if they have understood and agree with what they are being told. Their reaction may show that a different type of communication may be more effective or they may need more information.
Understand how to meet the communication and language needs, wishes and preferences.
It is important to understand an individuals communication and language needs, wishes and preferences because it will lead to the person understanding what they are being told, asked about or shown.
Types of communication
Verbal
Includes things like having a conversation with someone or someone talking to a group of people to get a message across. It also includes written communication like letters, written instructions or emails.
Nonverbal
Includes a persons body language, gestures, actions and facial expressions. It also includes things like sign language. For example if a customer cannot communicate verbally they may be able to answer simple questions using gestures or facial expressions.
Understand how to reduce barriers to communication
Barriers to communication could be
Hearing loss
Learning difficulties
Physical disability
Visual impairment
Dementia/confusion
Communication disorder
Speaking a different language
If someone is suffering from hearing loss Try to speak clearly and maintain eyes contact while speaking to the person. Also writing things down for the person is another way of over coming the barrier. Taking time to give clear instructions or perhaps show the person what you would like them to do may help communication with people with dementia/confusion.
You could ask questions bout what you have been speaking to them about. Also observing their body language may show if they understood what you were saying.
Sources of information and support or services to enable more effective communication include Interpreters
NRCPD (national registers of communication professionals working with deaf and deaf blind people) www.nrcpd.org.uk Alzheimers Society www.alzheimers.org
Stroke association www.stroke.org.uk
Advocacy services
Understanding confidentiality in adult social care situations
Confidentiality means ensuring that information is accessible only to those authorised to have access and is protected throughout its life cycle.
Not sharing information with people who do not need it
Keeping written information in a safe place so that it isn't seen by people who shouldn't see it