Qualitative Research Article Critique Essay Sample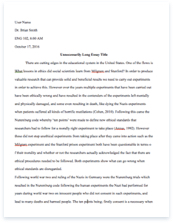 The whole doc is available only for registered users
OPEN DOC
Download Essay
A limited time offer!
Get a custom sample essay written according to your requirements urgent 3h delivery guaranteed
Order Now
Qualitative Research Article Critique Essay Sample
Qualitative research is "the investigation of phenomena, typically in an in-depth and holistic fashion, through the collection of rich narrative materials using a flexible research design" (Polit, Beck, and Hungler, 2001, p 469). Qualitative researchers focus on the descriptions and deeper meaning associated with the data collected. Another way to define qualitative research is to describe it as a type of research that involves interpreting non-numerical data. The next few pages will discuss the qualitative study report, "Having an Abortion Using Mifepristone and Home Misoprostol: A Qualitative Analysis of Women's Experiences.
The Problem.
In health care, it is important that the research data used to support clinical practices is legitimate. "Women faced with an unwanted pregnancy have to make the decision whether to terminate the pregnancy or carry to pregnancy to term. Women base their decision to have an abortion on their current life setting, even though having an abortion may conflict with their moral or religious beliefs"(Fielding, Edmunds, & Schaff, 2002). Regardless of their values and beliefs the decision is often difficult: many experience guilt, anger, anxiety, and fear (Fielding, et al, 2002).
The option of aborting the fetus by using medication instead of surgery is currently undergoing testing for efficacy and the effects on the emotional and physical well-being of the women involved. According to Fielding, et al (2002), women choose medical over surgical abortion because it is more natural, more private and less painful. The researchers wanted to understand whether women's perceptions change during the medical abortion process versus the surgical process.
Importance to Nursing.
Nurses are the first in line to advocate for patients and their rights to receive quality health care services and to have adequate education in order to make appropriate decisions regarding personal health care choices. Learning whether women are concerned about a more natural, more private and less painful process for an abortion may assist providers to identify appropriate candidates for medical abortion. Also, understanding the concerns women have towards medical abortion, the clinicians are better prepared to assist the client with appropriate education to make informed decisions. The knowledge learned from this study may also help clinicians decrease women's anxiety related to the procedure and its long term effects.
Study Purpose.
The study was conducted to determine specific needs and perceptions of patients undergoing medical abortion treatment versus the surgical abortion. The knowledge gained will provide clinicians with the ability to determine the criteria for candidates to choose this option.
Research Question.
"A qualitative researcher, believes that the world cannot be pinned down objective meanings, but that all variables must be taken into account when conducting research, including the past experiences and personalities of the researcher" (Chappell, 2000). Two open-ended questions were used in an interview of clients in order to develop a more detailed understanding of how patients view induced medical abortions. This question is broad enough for a qualitative study because personal perceptions play an important role in decision making. Personal perceptions are also as individual as taste preferences can be.
Study Design.
This study used the grounded theory approach. Grounded theory is the approach that attempts to develop a theory; however, the theory is seen to emerge from an observation of the situation in which the individuals are immersed (Oliver and Linkon, 2003). During this study the interviewers asked clients questions and observed their responses. This approach was used to permit "respondents to develop their own narratives in response to semi-structured questions. "Thus, while the researcher sets the focus, each interview has the potential to move in unexpected directions within the main topic"(Fielding, Edmunds, & Schaff, 2002).
Subjects and Setting.
A non-probability sample of 43 participants in a clinical trial of abortion using medical means instead of surgical means completed two open-ended questionnaires about this method. Thirty women participated in in-depth interviews a few weeks following their abortion.
Data Collection Methods.
Women that chose to participate were given questionnaires during each phase of the study. The questionnaire had two open-ended questions: "What feelings or concerns are you experiencing?" and "What does having this procedure mean to you?" Women returned their questionnaires in a sealed envelope" (Fielding, Edmunds, & Schaff, 2002). This method was appropriate to protect the patient's right to privacy and anonymity. Patient rights were protected through informed consent, routine privacy considerations, education regarding the medication affects and adverse effects. Patients were also provided medication to decrease pain related to cramping associated with medications used for the abortion process.
For qualitative research there is no requirement that the sample size be large, only that it provide data for analysis to determine the outcome. According to Fielding, Edmunds, & Schaff (2002), the non-probability sample was sufficiently large to achieve saturation, or the repetition of several themes. This is supported by the fact that women who were enrolled later in the study did not reveal new insights about guilt, anxiety or long-term side effects (Fielding, et all, 2002).
Data Analysis Procedures.
Interpreting the results of a qualitative research study is an intellectual process that requires critical thinking skills, creativity, and hard work (Polit, et al, 2001). Qualitative research is not linear and does not involve many formulas. Data analysis is a challenge for the qualitative researcher because of the complexity and the variances involved in the data collection. Several other reasons for impediments in analyzing qualitative data are: a lack of standardized rules, laborious work, and the complexity of presenting the data.
The interviews were recorded on cassettes and transcribed. ATLASti 4.2 qualitative software was used to code and analyze the digital files. Codes were revised, deleted or added as the study evolved. A researcher listened to each recording, read the interviews during the coding process, identified important themes that became apparent during the interviews. The predominant themes in women's experiences were analyzed throughout the study.
Major Strengths.
A major strength of this study includes comparison data and outcomes from other studies to validate the results of this study. "Several studies have examined women's preferences for medical versus surgical abortion". (Fielding, Edmunds, & Schaff, 2002).One article reviewed found that 60-70% of patients chose the medical procedure because the procedure offered greater privacy and personal control, and was more natural than surgery. A second strength is the use of open-ended questions to elicit honest and client directed responses. Allowing the conversation to follow the participant's discretion more data was obtained to support the conclusion. A third strength is the measure taken to ensure reliability. "To ensure reliability, the first author trained another author and a counselor in interviewing skills" (Fielding, Edmunds, & Schaff 2002), Training included role-playing and connecting the experience to family and social attitudes.
Major Limitations
The most noticeable limitation to this study is that some of the participants were interviewed by telephone. Researchers were reliant on the honesty of the person on the phone to actually be the participant. Phone interviews may or may not be held in a private setting, interruptions could have occurred thus distracting both the interviewer and the participant. Lastly, telephone interviews limited the observation of non-verbal clues seen during a face-to-face interview. A second limitation is the decision to not included women that had previous medical abortion experiences. The study included women that had either surgical abortion or no previous abortion experiences. It would have been good to have had the perceptions of women with previous medical abortion experience for comparison.
Are Findings Valid
In conclusion, qualitative research requires the researcher to be creative, have an intellectual mind, and work hard to collect and analyze data. This data is used to explore the complexity of human and nature. Qualitative researchers tend to "focus on the dynamic, holistic, and individual aspects of phenomena and attempt to capture those aspects, in their entirety, within the context of those experiencing them ((Polit, et al, p 15). The researcher wanted to assist clinicians identify appropriate clients for medical abortion and enable clinicians to provide appropriate psychological and physiological care for the medical abortion patient.. The results of this study identified that most women that have appropriate education regarding the efficacy and the process for medical abortion will chose the process over surgical abortion. Patients choose this method because it is less invasive, more private, and provides them more control over their care.
References.
Chappell, C. ( 2000). A look at qualitative research. Retrieved on August 23, 2003 from
http://www.gsu.edu/~mstswh/courses/it7000/papers/alookat.htm.
Fielding, S.L., Edmunds, E., & Schaff, E.A.(2002, January/February). Having an abortion using
mifepristone and home misoprostol: A qualitative analysis of women's experiences.
Perspectives on Sexual and Reproductive Health. 34. Retrieved on August 3, 2005 from
http://www.agi-usa.org/pubs/journals/3403402.html.
Oliver, J. & Linkon, S. (2003). Qualitative research. Retrieved on August 23, 2003 from
http://cte.rockhurst.edu/2003sotlinstitute/resources/qualitative_plenary.pdf.
Polit, D.F., Beck, C.T. & Hungler, B.P. (2001). Essentials of nursing research: Methods,
appraisal, and utilization. (5th ed.). Philadelphia: Lippincott.