Review of Related Literature College Essay Sample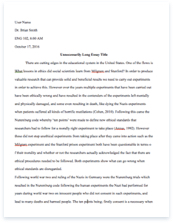 The whole doc is available only for registered users
OPEN DOC
Pages:
Word count: 1651
Category: poverty
Download Essay
A limited time offer!
Get a custom sample essay written according to your requirements urgent 3h delivery guaranteed
Order Now
Review of Related Literature College Essay Sample
This chapter will discuss the relevant facts, information and principles that are related to the study gathered by the researchers from different sources. Incorporate with these materials and sources, researchers will be able to understand further and know better about the research topic. It will be also helpful to the researchers by providing some information of the methods used in the past conducted studies.
In this chapter, researchers will be able to present related foreign literatures and local literatures. It will also present the relationships between the studies reviewed and state its similarities or differences as well. And lastly researchers will be able to summarize from the relevant sources and relate them to the topic that will justify the conduct of the research work.
Local literature and related studies
One of these is the article written by Jun Burgos, April 18, 2010. He stated that some 18.05 per cent of all Filipino households received cash from abroad in the year 2000, and this rose to 20.72 per cent in 2003 and then to 23.3 per cent in 2006. From the data, the author observed that more families of OFWs were spending less on food and more on health, with the percentage share of expenditures of migrant households on food down slightly from 44.9 per cent in 2000 to 43.3 per cent in 2006, while expenditures on health increased from 2.3 per cent in 2000 to 3 per cent. Allocations for durables, he said, were found to be steady at 2.2 per cent from 2000 to 2006, while fairly stable were those for education (4.5 per cent in 2000 to 4.4 per cent in 2006), and for housing operations (2.0 per cent in 2000 to 2.1 per cent in 2006.) he noted though that spending of OFW families for transportation and communication (including cell phone expenses) increased from 6.2 per cent in 2000 to 7.2 per cent in 2006. In its 2008 and 2009 reports, the BSP noted increasing savings and investments by OFW families largely in banks, other financial instruments and real estate an observation regarded as a big improvement from earlier reports describing OFW families as using a large part of their money on unproductive expenses.
According to BSP, the percentage of households that allotted portions of remittances to savings increased to 40 per cent in the first quarter of 2009, compared with only 35.8 per cent in the fourth quarter 2008 survey. The bank added that there was also a slight increase in the number of OFW families that set aside from money for investments, from 4.7 per cent in the previous quarter to 5.9 per cent in 2009. As mentioned earlier, the Philippines is one of the largest labor-sending countries and largest recipients of remittances. Increasing attention to the role of remittances in the Philippine economy has been occurring. However, currently, there are limited studies done to probe the migration-poverty nexus.
Pernia [2006] conducts a study to investigate the role of remittances in poverty alleviation and regional development utilizing panel data on the regions of the Philippines. The study empirically tests the impact of remittance on the welfare of the poor which is proxied by their mean per capita expenditure through quintile analysis. Importantly, he finds that remittances contribute to poverty alleviation which is reflected by the higher family spending of the poorest quintile which is the bottom 20% of the households. The estimation shows that a P1,000 increase in remittance per capita leads to P2,543 additional annual family spending after controlling for the effects of other local factors. Interestingly, the study also finds that this positive effect rises up to the fourth quintile and drops for the fifth quintile which he attributes to the fact that the richest quintile is less likely to have a member working as an OFW or to need remittance inflows.
Estudillo and Sawada [2006] scrutinize how trade openness and migration affect poverty reduction in the Philippines. Using provincial panel data and cross-sectional household data from 1985 to 2000, the study comes up with provincial and household-level estimates. They estimate poverty as a function of external openness, income inequality and total household income which they decompose into non-transfer income and transfer income. The study shows that both non-transfer and transfer income decrease poverty significantly with transfer income exercising a more immense poverty-alleviating impact at the household level of aggregation.
Foreign Literature and Related Studies
It is in our culture where family holds a very significant place in our lives, as supported by the World Values Survey, where 99 percent of participants rated family as "very important" and as work being the second most important in their lives .Also, Filipinos are known for their positive spirit—we still get to laugh despite the crisis we are facing. So, regardless of the lack of job security, low wages, unemployment, long working hours, still, "we see an image of the Filipino worker as a generally happy, family-oriented individual who values work for economic rewards and growth" (p.16). Domestic helpers, caregivers, seaman, nurses and teachers are just some if not the most usual Filipino workers are deployed. It is not unknowing that "a throbbing Filipino chooses to leave his home and family behind to find better working conditions and ultimately offer a better quality of life for himself and for the kin" (de la Torre, 2004). In Stella P. Go's article, Towards the 21st Century: Whither Philippine Labor Migration published in 1998, she said that Philippines has become the largest exporter of human capital in Asia due to years of economic and political mismanagement.
The emerging trends in international labor migration from the Philippines in the nineties as she cited are the increasing prominence of Asia as a work destination, the increasing demand for service workers and the re-emergence of production and related workers in the skill composition of international labor migration; and the increasing feminization of international contract labor migration. However, along these trends is the problem of illegal deployments or the undocumented workers. She also said that "the eighties saw the increasing involvement of professionals such as medical workers in international contract labor migration" (p.15). While the increase in international demand for service workers, has resulted in the increasing feminization of contract labor migration, particularly nurses and domestic helpers.
Thus, this data would be useful to our study for we can compare and analyze the changes between the present OFW's condition from the previous years. The economic development of a country is surely a significant determinant of labor migration. According to her, as a consequence of the economic situation of the country, migration is likely to occur and to continue for as long as the country's economy is unable to grow fast enough to meet its people's needs, to provide employment, and to sustain growth. In accordance to this economic situation, the Labor Migration force contributes in alleviating the country's economic problems through their remittances. The foreign exchange remittances help in propping up the Philippine economy to finance its investment needs. The beneficial and detrimental effects of migration and overseas remittances can be classified using household level.
Various studies empirically prove that remittances indeed lifted the level of children's education of the recipient families. In Mexico, Lopez-Cordova [2004] finds that as the fraction of remittance-receiving households increases, child illiteracy and child school attendance among children aged 6-14 years old improves. However, Mckenzie [1997] finds that migration lowered educational attainment of children which he attributes to the parental absence arising from current migration.
Aside from affecting educational outcomes, migration and remittances are also found to positively affect health status of recipient families. Education and health are two factors that augment human capital development. In Mexico, Hildebrant and McKenzie [2005] find that Mexico-US migration improves child health outcomes-lower infant mortality rates and higher birth weights. The study identifies two channels of the effect: one is the health improvements brought about by increases in income and another is the finding that having a migrant family member is associated with increase in the level of health knowledge among the mothers.
The Latin American region is one of the largest exporter of labor and recipient of remittances in the world. A variety of studies are done to investigate the poverty alleviating effects of remittances in specific Latin American countries. Adams [2004] studies the remittance-poverty interaction in Guatemala using a different framework. Using a large, nationally representative household survey consisting of 7,276 household respondents and predicted income functions, he compares the poverty headcount, poverty gap, and squared poverty gap of Guatemalan households that receive internal and/or international transfers with those of households that do not receive any remittance income. Findings reveal that both types of remittances decrease poverty creating a quantitatively larger effect on the severity of poverty, as measured by the squared poverty gap, rather than on the proportion of people living in poverty. Remittances, when included in expenditure, reduce poverty by 21.1% or 19.8 % respectively. This greater poverty-assuaging effect exerted is attributed to the kinds of income/expenditure groups receiving remittances. Adams [2006] conducts the same study in Ghana in Sub-Saharan Africa and finds that remittances do reduce poverty. Synthesis and Relevance of Reviewed Literature and Studies
Provided by the different references, the researchers found out that those OFWs have a great impact in developing the economy of the Philippines. Philippines have become the largest exporter of human capital in Asia. Sources also stated that in terms of spending behaviour, Filipinos dwell most on health and food but there is also a large amount of saving money for investment. Some of the OFWs also engaged in investment and savings while there are also OFW families who spend their income on unproductive expenses. Thus, this data would be useful to our study for we can compare and analyse the changes between the present OFW's condition from the previous years.