Review Of Related Literature And Studies Analytical Essay Sample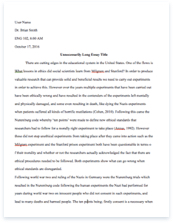 The whole doc is available only for registered users
OPEN DOC
Download Essay
A limited time offer!
Get a custom sample essay written according to your requirements urgent 3h delivery guaranteed
Order Now
Review Of Related Literature And Studies Analytical Essay Sample
CHAPTER II
REVIEW OF RELATED LITERATURE AND STUDIES
Butterflies inside the stomach, heart beating faster, and always looking for his presence are one of the signs that you are in love. Many people say that love is like a thread that connects the most diverse people in the world. Love is wonderful. Love is about what you feel to the one who gives you space in his or her life and makes you special. Love is about loving a person even though he or she doesn't love you and moving on even there was never between you and that person. Love is not a feeling, it is a commitment and it is a decision. (Joshua, 2016)
Some studies and articles concluded that romantic relationship has advantages and disadvantages to the teenagers, particularly to their academic performance.
Of the few studies that have examined the effects of romantic relationships on academic performance, most have been concerned with adolescent students. This study analyzes a data set of more than 300 students at a midsized, private University in the northeast United States to determine if participating in a romantic relationship predicts grade point average or course attendance. The results of multivariate analyses indicate that being in a romantic relationship while in college is significantly associated with class absences, but not with grade point average. Specifically, logistic regression models show that participation in a romantic relationship more than doubles the odds of failing to attend three or more class meetings per course in a semester. Practical implications of these findings include the consideration of romantic relationships among the undergraduate student body by university administrators and faculty when attempting to address course attendance concerns. Additionally, this study suggests that future researchers examine the characteristics of romantic relationships and romantic partners in order to more fully understand how such relationships might affect the academic performance of university students.
And there are some advantages of this, first many teenagers "excel in their class", because they become motivated to study hard because of their partner which is considered as a positive result for every students and teenager having an early romantic relationship. The second advantage is many teenagers "get inspired" because their partners give them an inspiration for so many things. The third advantage is many are "happy to have a partner" because their relationship gives joy and happiness. Many for teenagers looking for a partner that gives them joy and contentment. The fourth one is many students and teenagers "gain better self-esteem or self-confidence". Many teenagers having an early romantic relationship gain self-confidence because when we have a partner we feel safe and secured. Our partner gives us an assurance that we can do more. Lastly, many teenagers said that "they gain more friends" because of their partners. Because when we are in a relationship we encounter and meet our boyfriends or girlfriends friends.
There are more advantages of having an early romantic relationship. These are the positive results to every teenager who are engaged in a romantic relationship. It is to know that having an early romantic relationship gives them a positive result for every aspect of their lives; to their social and emotional life.
There are also disadvantages of such, most teenagers and students answered that one of the disadvantages of having an early romantic relationship affect their study "they gain lower grades", because of their boyfriends or girlfriends. How ironic that many are said that having an early romantic relationship helps them to excel in class, but it also affects to their study to gain a lower grade. The second disadvantage for many teenagers is "they learn to keep secrets from their parents". Engaging in a relationship helps them to keep secrets because their parent doesn't allow them to enter in a relationship so when someone courts them and become officially on it is better for them to keep it as a secret. Third, teens "tend to be quarrelsome". Both men and women teenagers become quarrelsome because of their partners. That is what you called "mind your own and stay away from what is mine" attitude of teenagers. The fourth disadvantage is many teens "come home late". Because they want to hang out with their boyfriends and girlfriends, they wanted to spend more time with their partner's companion. Lastly, having an early romantic relationship disadvantage for teens is "they disregard major priorities". Teens are easily distracted when it comes to their partner. They wanted to give enough attention and time to their boyfriends or girlfriends. The reason why teens forgot to prioritize, focus and manage more important things.
These disadvantages are only a few of many disadvantages and negative effects of teenagers engaging in an early romantic relationship. (Joshua, 2016)
Dr. Furman, a professor of psychology at the University of Denver, said adolescents' lack of social skills and emotional control can make relationships difficult. Yet, he said, romantic relationships can also be significant sources of support that offer teenagers fun and companionship, help them forge mature identities and offer them practice in managing emotions.
In the study of the effects of having a relationship to the academic performance of CFAD students, an independent samples T-test was performed to find any relationship between grade point average and involvement in a romantic relationship. It was hypothesized that students who were involved in romantic relationships would not perform as well academically in undergraduate coursework. However, statistical data was not obtained to support the theory (t < .01, N.S.). A relationship was observed between participants involved in relationships and higher levels of stress. Deadlines coupled with academic motivation illustrated higher levels of stress among participants involved in relationships as measured by a Pearson Correlation (p = .486). In a sample of seventy-five undergraduate students attending Loyola University New Orleans, the mean age was 20.7(SD = 1.67) and the mean grade point average was 3.09(S.D. = .5)
According to an essay by Petersonmwaura, he said that this romantic relationship effects student's school work. Students focus more on what's going on in their personal life with their relationship and cannot focus on their school work. If the guy or girl that they are crushing on or in a relationship with is in any of the same classes, it could cause distractions and lower your grades. You push off your school work and worry about them.
Boys and girls are two different types of people so the way they handle will be different. So not everyone will be as distracted from each other, but distraction is a distraction. Relationships are a very big distraction to high school teenagers and can affect students academically. (Lowden, 2012)
According to also to Weissbourd many adults—especially parents—often fret about youth and the "hook-up culture." But research suggests that far fewer young people are "hooking up" than we are commonly led to believe. This focus on the hook-up culture also obscures two much bigger issues that many young people appear to be struggling with: forming and maintaining healthy romantic relationships and dealing with widespread misogyny and sexual harassment. What's more, it appears that parents and other key adults in young people's lives often fail to address these two problems.
From the essay about "The History Of Early Relationships Children And Young People Essay" it was stated there that the use of technology is frequent in teen dating violence. Excessive text messaging, instant messaging or inappropriate postings to social networking sites, such as MySpace or Facebook, constitute teen dating violence.
However, in the study of S. Grey, he considered dating has a positive benefit for teens, even if they easily get carried away with romantic feelings. Appropriate teen relationships lead to maturity in teenagers and a better understanding of adult relationships. Getting this practice in early allows teens to discover what they want and need out of romantic relationships. Through dating, teens gain essential tools in navigating the world and are better able to develop meaningful intimate relationships as adults.
Through communication, teens talk about their needs and demonstrate their feelings, but also listen when their partners do the same. By participating in dating, teens begin to learn how to compromise and cooperate with partners, building on important skills such as active listening and nonverbal messages. They develop the ability to resolve conflict without hostility and negotiate with their partners. By learning communication skills early, teens are better equipped to handle positive dating relationships as adults.
But, teenagers also experience pressures every day. Not only are they undergoing unnerving biological changes, but they also are transitioning from childhood to adulthood. Dating teenagers experience even more pressure as they focus on building a relationship in the midst of all these changes. Learn the potential problems facing teenagers who date. If a teen dating problem seems too difficult to manage on your own, ask a family therapist for advice. (Mack, 2017)
In the study conducted about Same-Sex Peer Relations and Romantic Relationships During Early Adolescence: Interactive Links to Emotional, Behavioral, and Academic Adjustment, it was examined there whether early adolescents' involvement in a romantic relationship would be differentially related to adjustment, depending on their relations with the same-sex peer group. Three hundred and twelve 7th graders were assessed with respect to their social acceptance by same-sex peers, involvement in reciprocal same-sex friendships, involvement in romantic relationships, self-esteem, antisocial behavior, and academic performance. Social acceptance by other-sex peers and involvement in reciprocal other-sex friendships were also assessed for control purposes. The results showed that having a boyfriend/ girlfriend was related to poorer emotional and behavioral adjustment for those early adolescents who were unpopular among same-sex peers. For adolescents who were popular among same-sex peers, romantic involvement was not related to emotional and behavioral adjustment. Independently of same-sex peer acceptance, however, romantic involvement was negatively related to academic performance, albeit only for girls. The results are discussed in light of Sullivan's theory of social development
In the study about "Adolescent academic achievement and romantic relationships", parent and peer influences on academic achievement are well documented, but little research has examined links to romantic involvement during the adolescent period. This study draws on interviews with 572 currently dating teens and results indicate that the romantic partner's grades are significantly related to adolescent respondents' self-reported grades, even after their own orientation toward school and traditional family, peer, and demographic controls have been taken into account. We hypothesize, following results on peer influence processes, that this concordance reveals a tendency to select similar partners, but may involve social influence processes as well. A longitudinal analysis in which partners' grades predict respondents' grades reported at the second interview (controlling for wave one grades and the other covariates) lends support to this view. We also explore the role of age, gender and race/ethnicity as affecting the nature of these relationships. Finally, we draw on the content of in-depth interviews elicited from a subset of the respondents to illustrate both types of mechanisms (selection vs. influence). These results underscore the importance of continuing to explore the role of romantic partners in connection with a broad range of prosocial as well as problem adolescent outcomes.
Puppy love and childhood crushes turn to teenage dating activities for at least half of all high school students. With the onset of adolescence, teens spend less time with family and more time with peers. In the early teen years, mixed-gender groups predominate. By mid-teens, up to two-thirds of high school students report they have dated or are in a romantic relationship. Having a boyfriend or girlfriend in high school can have significant effects on a teenager's social development and personal identity. (Kilpatrick, 2017)
The young generation nowadays is really into something sensitive. If they want something they usually get the desire to have it and most of them gone into dating (Macasero & Malingin, 2014). Teenagers play a very important role in this study. The researcher finds love as a very critical aspect of this study because it all started here.