Rifleman Dodd Book Report Essay Sample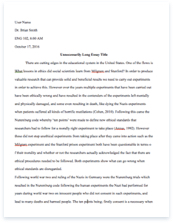 The whole doc is available only for registered users
OPEN DOC
Download Essay
A limited time offer!
Get a custom sample essay written according to your requirements urgent 3h delivery guaranteed
Order Now
Rifleman Dodd Book Report Essay Sample
Rifleman Dodd is a very interesting book that tells a story of a young soldier who is separated from his comrades during the battle in the 1800's. This book goes on to describe everything that Matthew Dodd had to go through in order to return back to the fight with his friends. Rifleman Dodd had ran into several problems during his journey. The three main challenges were battling starvation, fatigue, and the Portuguese boy he encountered.
Rifleman Dodd's first challenge was battling starvation. This is a very serious problem because this has a major effect on how he can react in the face of danger. Rifleman Dodd showed a vast amount discipline through his journey by only consuming just enough food that he needed to give him the energy that he would need until he had to stop again. By doing this, Rifleman Dodd gave himself the opportunity to not only conserve his food, but also the energy that he may need in case he found himself in the heat of battle.
The next challenge that Rifleman Dodd encountered during his separation was that the battle of fatigue was really starting to tear away at him. Fatigue is a major factor to a soldier who is in the heat of battle. The affect that it has on one's health is outstanding and Rifleman Dodd found a way to look beyond himself and continue to fight to return back to his friends. He used tactics to his advantage to help him sleep at night and continue on with his mission in the morning. For example, he would sleep with his pack on his back sitting straight up with his rifle in his hands just in case he had to continue the fight if something went wrong around him during the night. Rifleman Dodd was a very smart individual and very determined soldier to return back to his comrades.
The last major challenge the Rifleman Dodd ran into was a Portuguese soldier that was hiding in the trees. This could of been one of the biggest challenges for Rifleman Dodd because he didn't know whether or not to trust this boy. He named this boy "idiot". The idiot tried to convince Rifleman Dodd that it would be a good idea for him to tag along because he knew where villages where and could possibly speak to anyone that confronted them. Rifleman Dodd was weary about the decision because he realized that he might have to share his food and water and he barely had enough for himself. Rifleman Dodd overcame his starvation and fatigue and found the kindness in his heart to help the young boy out.
In conclusion, Rifleman Dodd was one of the most determined soldiers I have ever read about. The challenges that Rifleman Dodd went through are unimaginable to anyone who has never gone through combat. The amount of determination that Dodd had in his body was off the charts compared to the other soldiers who he fought with. Rifleman Dodd was a very interesting book and encouraged me to continue reading.