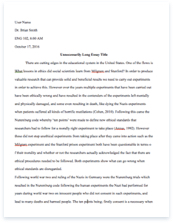 The whole doc is available only for registered users
OPEN DOC
A limited time offer! Get a custom sample essay written according to your requirements urgent 3h delivery guaranteed
Order Now
A: Summary
Cliques are referred to as a small group, with similar interests or other features in common, who spend time together and do not readily allow others to join them. Every school has cliques ranging from cheerleader cliques to even cliques committed to laughing at other cliques. Many teens wish to belong to a special group and can be bound to be part of one being in school together six hours everyday, all school year. Friendship groups just form naturally.
Supportive, health groups do not relate to themselves as a "clique". They think of cliques as "snobs". These supportive health groups are people with the same special interests as the student. These friends give good advice and teens feel comfortable discussing their problem with them without feeling strange. These groups help students develop self-confidence and self-assurance. These good "cliques" value honesty and grades.
Bad cliques are the ones who pressure teens to do bad things. They pressure them to do drugs and lie. These cliques may make teens feel "discouraged, uncomfortable, and out of place". They also insult other kids and expect the person in the group to do the same. Teens stay in this clique because they think it's better than being alone, but that's not true. Find the clique who accepts you for yourself, not for your style. B. New and Intriguing Ideas
While being in school all day everyday, it is natural to be part of a group subconsciously. "Psychologist Thomas J. Berndt at Purdue University says
it's part of human nature." But what matters the most is what group the teen goes in to: the bad clique who tease others, or the good clique that is supportive. The good cliques help give teens self-confidence and the courage to try new things, like try out for a sports team. The bad cliques can make teens feel wanted and cool at first, but then they make them feel pressured into doing things they don't want to do. Teens end up not being able to do things they enjoy or meet new people because they feel like the clique will look down on them. Teens may also blame themselves thinking there is something wrong with them since their in that bad group of people. C. Questions
1. Is it possible that teens who go into a "bad" clique feel insecure about themselves? 2. What if a student is in a bad clique, but is scared to get out because of what those other students may do or say to him/her? 3. Is it possible that the student's home environment can affect which clique they go into? D. Confirmation or Challenge
I agree with what the author says in this article. My first day of freshman year, I remember being with my best friend and looking around seeing a bunch of different cliques; from jocks to what people may call, nerds. There were cliques that thought they were better than others, looking down on them. Then there was the group of shy kids who didn't even want to show their face. I personally do not consider myself in a clique, neither a loner. I'm more of a free flower. I like meeting new people and joining extra-curricular activities. E. Perceived Change
After reading this article, it made me want to pay closer attention to cliques and their behaviors. It has also made me want to inspire more teens towards reaching goals in life, being a good influence on them, and supporting them. This article also made me want to make new friends, and introduce myself to people I may not know. I want to make an effort to be friendlier.
Related Topics