Smart Choice Essay Sample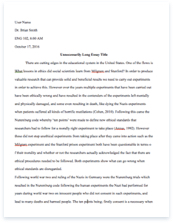 The whole doc is available only for registered users
OPEN DOC
Pages:
Word count: 1583
Category: risk
Download Essay
A limited time offer!
Get a custom sample essay written according to your requirements urgent 3h delivery guaranteed
Order Now
Smart Choice Essay Sample
Introduction
The book Smart Choices: A Practical Guide to Making Better Decisions introduced a new practical method called PrOACT Approach designed to guide people to make better choice when they are facing decision problem. PrOACT stands for Problem, Objectives, Alternatives, Consequences, and Tradeoff respectively. This method divide decision making process in to parts and think systematically about each part then combine the results together to get a better choice. The first phrase of this method is to define exactly what problem you are facing. Although people tend to obtain obvious answer for this question, however, the obvious one may not be the real one people facing. Decision maker often confuse between the trigger of the decision problem and the real decision problem and thus impose many constrain on their problem definition.
For example, the professor asked classmates to write a review of the book Smart Choices, which is the trigger of the decision problem. Many students define the problem to be "how can they writer a good review of Smart Choice" because of constrain imposed by trigger of the problem. However, the real problem may be how we can better learn this practical thinking method to gain better choice in future careers or lives. After defining problem the next step is identity objective. The next step is to create alternative for decision maker to choose. People cannot choose from vacuum. Having identified alternative, figure out what is the real consequence of each alternative is necessary. However, different objective often conflict with each other and thus it is important to trade off and strike a balance (Hammond, et al., 1999).
Although this method separates the decision making process into parts, there exist interrelationship between different parts. If decision maker cannot define problem well, they may overlook some objectives they want to achieve. Similarly, clear objective will help to identity according alternative to achieve it. This report focused on the "Objective" part of this book and relationship between this part and planning methodology.
Discussion of chapter 3
The chapter3 of this book introduces methods to guide decision maker to a full set of identity objective. : What do decision maker want to achieve through this decision making. In other words, what is this policy work for? What the policy maker want to solve or accomplish by formulating policies. This part first explains why clear objective is important. In general, objective can guide the whole decision making process. Objective state where you want to go, if objective is wrong you are highly possible to lose your way. More specifically, identity all objective is vital criteria for formulating and evaluating full alternatives. If an objective is missed, consequently the alternative to achieve it will be missed. A full set of objective can also help you in evaluating the importance of certain decision and guide you to search for relevance information to progress decision making process. Most important is a full set of objective guide you to all you want rather than make an unbalanced decision concerning only some objective but omit others and thus result in unsatisfied result. In addition, sufficient objectives can be useful to justify your final choice to others.
While real and full set of objective is not apparent as people think, it require deeper and wider reflection to identity them. The authors of the book propose a process to facility identification of objectives. Basically, first step is to do a brainstorm about all the concern or things you want to achieve through this decision making especially hidden concern. Then these ideas need to be converted into clearer format: verb +object for example: gain higher marks. A notable point here is the need to separate ends from means to end by keep asking why and for what sake. The means to ends can be used to create alternatives however only fundamental objective can be used to evaluate alternatives. Otherwise, certain objective may gain too much weight on decision making process due to the overlap of fundamental objective and means to it.
Clarify and specify the meaning of each objective will make the objective more useful and measurable as the criteria to evaluate alternative. It is important to test your objective list by using them to evaluate several alternatives and gain a resulting choice. If the criteria (objectives list) are sufficient then the resulting choice will satisfy you, however, if it is not the case, the sufficiency of criteria should be doubt and it is need to search for more criteria. In addition, use the objective list to explain your final choice to others is a practical way to evaluate the fullness of criteria (Hammond, et al., 1999).
In planning practice, it is important to set a full objective list since it guide planning process to progress. Because planning is much concern about problem and policy. Without clear realization of in what way and to what extend certain policy will solve this problem, planner may find difficult to formulate specify and effective policy to solve certain problem. For example, if the problem is urban decline, the objective may be bringing company back to urban area. A clear and full set of objective list can guide planner to conduct certain survey to obtain relevant information and also stimulate them to create new and relevant alternative policy for choose. Furthermore, planning activities often include large amount of skated holder and thus sufficient objective list is require to evaluate and explain alternatives to them to obtain their support and clarify and specify the meaning of each objective also facility this convince process.
Additionally, since planning involve numerous skated holders, the objectives could be hard to determine and thus as the book suggest: it is significant to consider decision's possible impact on others. An agreement on objective will more possible to bring following agreement on actions. The aim of planning is to result a sufficient and full improvement rather than an unbalanced result. Therefore, setting out a full and balanced objective list plays a central role in planning. A plan concern too much about economic or environment will prove to be fail (Hammond, et al., 1999). (Word account: 1001)
Housing issue:
Problem: current affordable homes shortage is 2,700 homes per year in Tower Hamlets. In addition, current rates of over-occupation (over-crowding) are at 16.4% and also 43,275 additional homes are needed to meet Mayor's emerging housing targets especially specialized housing. Meanwhile, new home should meet high-standard, sustainable requirement, taking account of needs for national and regional guidance on de-signs standards (Council, Tower Hamlets, 2010).
Author of this report would like to argue that the real problem facing Tower Hamlets council is how to accommodate its resident rather than provide new house growth. According this wider problem definition many objectives will emerge for example: market interferes: rent control or promoting social rent housing rather than promote housing growth (Tower Hamlets council, 2010).
Objectives: 1.To deliver enough housing growth to accommodate resident especially affordable and specialized housing. 2. To make sure all housing in Tower Hamlets meet high quality and sustainable standard (Tower Hamlets council, 2010).
Alternative: Direct public investment in housing or use grand fund to stimulate the development of affordable housing. Require an overall strategic tenure split for affordable homes from new development as 70% social rented and 30% intermediate. 35%-50% affordable homes on sites will be required to provide 10 new residential units or more and also will secure affordable housing from a range of public-sector initiatives and private residential schemes through negotiation as well as efficient use of vacant property. In terms of housing quality, the council will set out housing design standards and work with its partners to refurbish existing housing under the standard and monitor all new housing to meet the standards set by council. Safeguarding the existing Gypsy and Traveller site at Eleanor and also street and identifying requirements for new sites through the Site and Place Making DPD in addition with provide more student accommodation for London Metropolitan University and Queen Mary University (Tower Hamlets council, 2010).
Consequence: "Council should deliver 43,275 new general and specialized housing from 2010 to 2025 corresponding to London Plan housing targets with priorities for affordable and family homes while all new housing should meet high-standards.(Affordable home of up to 50% until 2025) (Tower Hamlets council, 2010)
Green and blue grid
Problem: There is deficiency of 1.2ha open space for per 1,000 population in 2010. (Tower Hamlets council, 2010)
Objective: 1. "create a high-quality, well-connected and sustainable natural environment of green and blue spaces that are rich in biodiversity and promote active and healthy lifestyle"2. "Reduce the risk and impact of flooding on people, property and the environment" (Tower Hamlets council, 2010)
Alternative: The council will deliver a network of open spaces by protecting, creating, enhancing, and connecting existing open spaces as well as create new open space. In terms of reducing flood risk, land should be evaluated of flood risk before development along with maintaining and creating of food defence and water space. (Tower Hamlets council, 2010)
Consequence: the council would need to provide 99ha of publicly accessible open space by 2025 and the flood risk will be managed well. (Tower Hamlets council, 2010)
Reference
Hammond, J. S., Keeney, R. L. & Raiffa, 1999. Smart Choices:A Practical Guide to Making Better. Boston: Harvard Business School Press.
Tower Hamlets council, 2010. Core Strateg, London: Tower Hamlets Council.