Social Values Demonstrated Through District 9 Essay Sample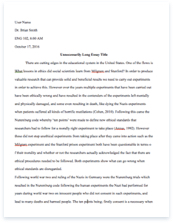 The whole doc is available only for registered users
OPEN DOC
Download Essay
A limited time offer!
Get a custom sample essay written according to your requirements urgent 3h delivery guaranteed
Order Now
Social Values Demonstrated Through District 9 Essay Sample
"The day the power of love over rules the love of power the world will know peace." (Mahatma Ghandi) The pursuit of power has been evident throughout history, from apartheid, to genocide and also through the Holocaust. Within these examples it is also evident how power can corrupt. The director of District Nine, Neill Blomkamp, uses the character of Wikus to show how the fear of others can drive the pursuit of power to morally corrupt one to acts of oppression and inhumanity as presented by the movie's characterization, plot and camera angles. Fear is the main source of superstition, but also one of the main sources of cruelty. We often now find fear of power more blatantly evident and taken to higher levels, over time. The character of Wikus Merwe did an excellent job in executing the emotion of fear. Wikus was portrayed as a leader who had to carry out the main alien trying to evacuate all aliens of District Nine. Going into the operation, Wikus had to depict a quirky, thrilled manager for the evacuation of the alien's slum. His over-animated spirit created a nonrealistic pretense of skill; his quirky and unlikeable attitude became very much evident.
A scene exhibited in the movie shows Wikus in the Helicopter en route to District Nine taking the precautions to fasten his bulletproof vest. The helicopter seems to be missing a vest for one of Wikus' colleagues, but Wikus reassures his co-worker that he'll be "okay", dismissing him with a corny smile and chuckle like an accident would be no big deal. This example shows that Wikus fears for his own life and wouldn't sacrifice a vest for a fellow co-worker that is also enduring the dangerous mission to District Nine. Wikus' quirky attitude and over-confidence is a front for how he really feels, which is unconfident and scared. A prime example of when confidence fails is how Wikus is displayed throughout the film. Wikus starts his journey with an optimistic attitude over evacuating District Nine and relocating the aliens to District 10, but over time, the viewer realizes his transformation in demeanor. The tender soul that thought he was doing the right thing for the better of society starts to transform into a repulsive animal after exposure to a foreign alien substance that changes his life forever. Wikus' fear becomes a reality when he starts living the life he was meant to persecute.
Wikus now carries out mean and selfish acts towards alien Christopher Johnson, the creature that promises to heal Wikus from his metamorphosis after 3 years. Wikus' recklessness and anxiety brings out the true fearful colors Wikus's tends to hide under his corny demeanor. "Never again shall it be that this beautiful land will again experience the oppression of one by another" – famous words by Nelson Mandela. It is ironic how Nelson Mandela pledged no more oppression in his land by one another, even though by one another he is referring to humans; it's absurd in District Nine how South Africans are oppressing the aliens. The plot tells the story in the land of one of history's most memorable, oppressive spells. The plot leaves the thought of this history as relevant and to subconsciously come to the viewer's mind, noticing the connection.