Sport Speech Essay Sample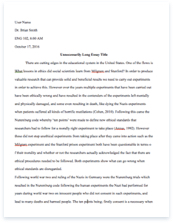 The whole doc is available only for registered users
OPEN DOC
Download Essay
A limited time offer!
Get a custom sample essay written according to your requirements urgent 3h delivery guaranteed
Order Now
Sport Speech Essay Sample
For those of you who don't know me, my name is Taylor McCormick, and here today I am running for the role of School Captain, SRC president and SRC secretary. I stand here in front of you all today; being braver and bolder and more debonair than ever before. I would like to thank the school for giving me this great opportunity. This is my chance to prove that I have capacity to be your schools leader. Having experienced a leadership role before in primary school, I know what it's like to have such a heavy burden to uphold. When I wear my school uniform, I wear it with pride. When I see someone in trouble I help out as best I can. When I see rubbish on the ground I pick it up. When teacher tells me to do my work I do it. I know I can be this schools prized leader. I treat this school the same way I treat friends and family; with dignity, respect and caring heart. Being a leader isn't just about being an outspoken character that gets noticed, it's about all the other little qualities. Words like hard working, dedicated, persistent, enthusiastic and confident; these are all extremely important aspects in becoming a good leader. But I can promise that I will try my very best to organise fun things that you students and teachers like.
I like to lend a helping hand in the classroom and the library whenever I can. If you're ever feeling lonely or sad, remember, you can always come to me and I will try my very best to cheer you up. I am a trustworthy and honest student, who is well respected amongst all my teachers and peers. It's these three qualities that are valued the most – all good leaders possess them. I am confident and will often set my mind on a goal – and commit myself to achieving it. The challenge of leadership is hard but you have to be strong, nor rude; be kind, but be bold, be thoughtful, but not lazy; be humble, but not timid; be proud, but not arrogant; have humor and most of all have fun. Leaders become great, not because of their power but because of their ability to empower others. As a leader, I am tough on myself and I raise the standard for everybody; however, I am very caring because I want people to excel at what they are doing so that they can aspire to be leaders in the future. A leader is someone who willing to sacrifice their own life for the protection of others. The greatest leader is not necessarily the one who does the greatest things.