Statement of Purpose Essay Sample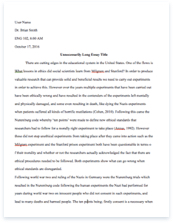 The whole doc is available only for registered users
OPEN DOC
Download Essay
A limited time offer!
Get a custom sample essay written according to your requirements urgent 3h delivery guaranteed
Order Now
Statement of Purpose Essay Sample
I am Mandeep Kaur and I hail from Moga,Punjab,India. My aim in life is to work as a leader in nursing team. So that I can improve the standard of nursing. I got good marks in Science and English in my school days. In my 8th class I found an opportunity to meet with hospital staff during my educational trip to PGI Chandigarh. I was impressed with work of nurses who work as mother , sister, for any sick person. So i developed interest in nursing. When I was in 10th class my friend met with an accident . Nurse in the emergency ward of nearby hospital worked so effectivey that she saved my friend's life. This incident prepared me to persue my graduation in nursing. I did my senior secondary school withmedical from Govt. Girls Senior Secondary School , Badhni Kalan, Moga. I was a good player of Football and Badminton during my school days . I developed leadership quality in me. At the end of class 12th there was a seminar on " Nurses as Managers" in my school. I got knowledge about how I can get admission in Nursing from this seminar.
I started my graduation in Guru HarGobind College of Nursing , Raikot. During first year of gradution while studying Nusing Foundation the units that was related to ward management sounds me interesting . Before that I was facinated that how a big institution like hospital can work in . So my interest find its way when I started my clinical duties . I was impressed that everything taught under unit "ward managment" work very will practically in each units of hospital. During my clinical experience I met with some of the situations when decision making is the crucial step in care of patient . I realized that leadership and decision making areneed of the hour in nursing. During my clinical posting my teacher gave me opportunity to work as a group leader . I improved my confidence and I come to know how use manpower to improve productivity . I worked well during the four years as a group leader.
During internship when we wee working with Apollo Hospital, Ludhiana my leadership quality got refined as the whole responsibility of management was upon me as team leader When my teacher was sick . With the grace of God everything went well and I got prize for best management. When i was making making assignments of Management of Nursing Services and Education I searched for the colleges that offer courses related to Management of Nursing Services and Education . I found some colleges . I read about every college and their offerings. Seneca college suits me best as I am interested in studying in Canada. I shared my this point of view with my cousin who is studying at Canada . She explained me about educational experience in Canada and I started preparing my self for study in Seneca college. Then we organized a workshop on the theme " Nurses as Leaders " and our team got prize for best management. Educational system in India is becoming theoratical day by day.
There is less emphasis on the practical use of learned facts. One of my best friend of my school days shift to Canada with her parents. During my conversation with her she explained about methods of teaching in Canada . It suits me very well that they give exercises to solve that improve the learning capacity of words. During my graduatin days I used to go to library and read the journals of nursing leadership. This study help me alot during my working also. As from school days I am a player of Badminton and I love to read and manage problems. So the Leadership an Management in Nursing suits me well . I look forward to learn many new things during this course.
As health care system in India is renovating and there is improvement in nursing care also need strong Nursing leaders who can use human power to improve the standards of nursing and Bis institutions prefer the nurse managers who are having globel experience . So I work hard to improve my knowledge and experience during study at Canada. I love surfing internet . I read many things about Seneca College . As it also give opprtunity . So it will refine my working skills. I will feel obliged . If I get any opportunity to handle any type of big assignment during my course. I will try my level best to show my managerial and leadership qualities.