"Stay Hungry, Stay Foolish"- Steve Jobs Essay Sample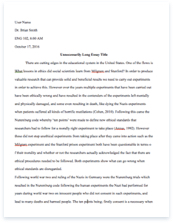 The whole doc is available only for registered users
OPEN DOC
Pages:
Word count: 1580
Category: jobs
Download Essay
A limited time offer!
Get a custom sample essay written according to your requirements urgent 3h delivery guaranteed
Order Now
"Stay Hungry, Stay Foolish"- Steve Jobs Essay Sample
A non-descript farewell message on the back cover of the Whole Earth Catalogue-1974 edition, when it became the closing line of Mr. Jobs' commencement address to the Graduates of Stanford, went on to inspire many. And these words can best summarize my ideals.
It has been my constant endeavor to strengthen my technical skills as well as venture beyond the confines of my academic curriculum and classroom lectures. The fulfillment, the enrichment and the mere experience of each of these endeavors have been both a source of tremendous inspiration and a guiding force in sculpting my academic objective of pursuing a Master's degree in Management Information Systems.
Working with Accenture, as an Associate software engineer, for the last 7 months has been an absolutely amazing & enriching experience to me. Taking on the challenges given to me from day one to completing close to twenty-five projects till date, my knowledge has increased many folds. My seniors have been appreciative of my capabilities of handling the tasks and have been increasing my responsibilities. I have also been currently nominated for the AO for BPO Hall of Fame (an award given to outstanding achievers in Accenture). Averaging almost three projects a month, while working on wide ranging projects from Client Service Reporting, Master Contract Repository, Ariba Procurement Tool to Process & reporting tool and HR portal, has given me an opportunity to learn the various aspects of management systems. It has enhanced my knowledge of how corporations use technology to address Business problems.
One of projects assigned to me, was to test the Archiving functionality of Document Flow Manager (DFM) tool which involved moving of old cases from Primary DB to Secondary DB. Image and Meta data had to be archived separately, for which different batch jobs had to be executed- one for moving from the primary to secondary and the other for running a batch job on the primary to delete the cases. Apart from the build team based in Argentina, this functionality was new to the entire team & the documentspresent with us were outdated. Complexities involved understanding the location of data in the DB; getting the complex database query's right & checking multiple databases which contained enormous amount of data.
This experience not only highlighted the importance of information management but also made me aware of the various challenges involved in dealing with the critical data of an organization. Locating & assimilating new information rapidly, apart from having to break down & understand complex content compelled me to think out of the box. This not only increased my problem solving capabilities but helped my team achieve results & completing the project in a record four days time. My ability to reach & defend independent conclusion has also helped increase my intellectual maturity
Currently, I am working on a project for Schlumberger on Process & reporting tool which is an Accounts payable vendor management solution that seamlessly integrates invoice processing, e-mail handling, document image capture, query resolution, and reporting. I took this opportunity to understand the project requirement by analyzing the documents, creating system test plan, preparing test cases and ABD test scripts for various functionalities and building a functional model of the system. This methodological paradigm has reduced the project complexity by a great extent and helped my team to perform product, regression and integration tests efficiently. It has also taught me strategic leadership with the ability to cope with complicated personalities effectively in a competitive & bureaucratic environment.
During my Undergraduate degree program, the areas which were of special interest to me centered on Computer Networks and Database Management Systems. I have always wanted to understand these concepts thoroughly, while being more interested in logic-based subjects than those that required learning by note. This inspired my project work in Controlling IP Spoofing Using Inter-Domain Packet Filters, which was primarily concerned with simulating an Inter-Domain Packet Filter (IDPF) architecture that can mitigate the level of IP spoofing on the Internet. I also worked on creating a Student Database Management System Using Co-Sequential Processing which was an application supporting database-management of University Students using C++ Programming Language and Co-Sequential Processing Concepts. The project gave me an opportunity to gain a hands-on experience in carrying out independent & exhaustive research.
My professors were always impressed with my ability to come up with correct answers for difficult questions and back up these answers with interesting analysis. It was for this reason that my teachers were appreciative of my abilities and knowledge notwithstanding my average performance in some of the University Examinations. My inability to reproduce verbatim the contents of textbooks in my answers, coupled with my poor handwriting became largely responsible for my none-too-impressive scores. I realized then that I must build my knowledge base to achieve my goal of undertaking the challenges that I was facing. To this end, I am also currently pursuing certification courses in Sun Certified Java Programmer (SCJP); Sun Certified Web Component Developer (SCWCD); Oracle Certified Associate (OCA). Besides having a sister, an architect herself, and who spent a frustrating amount of time & energy just to improve my handwriting, helped a great deal!
Outside academics, I was introduced to the world of community service through my father who has been an active member of The Rotary Foundation. Working as a volunteer in their community enrichment program, I work with a small team of young professionals providing basic computer education to under privileged school children from my community. While this has been an eye-opener to me and taught me to understand and respect the values, ideals of our humanity, I have enjoyed watching the middle school students grasp the nuances of using a computer and explore the vast world of the internet. Having interacted with people from different cultural backgrounds has taught me to admire and respect all cultures and religions. I speak 3 languages other than my native tongue and am easily adaptable to different environments. Understanding my own limitations & learning from it has been a humbling experience. It has taught me to be hardworking, persistent, sincere & goal oriented. I yearn to reach high levels of efficiency by following the best practices laid out.
Management Information Systems has become one of the most important aspects of our life and now it has a greater influence on our world than it has ever been before. Organizations are increasingly relying on information systems to provide support in decision making in operational activities, management functions and for increased effectiveness in its various business areas. As a twenty first century professional, the ability to understand business on a global scale will be highly prized and hence it fascinates and motivates me to learn more and more about it.
Now, having worked for little about a year, I feel that I am maturing as a professional & should pursue a graduate program to cement my capabilities. As an Information Science graduate, I developed excellent analytical and technical skills and improved my problem-solving abilities, but I never had the opportunity to develop the technical and management interdisciplinary skills necessary to design, create, and maintain computer-based business processing applications or study the emerging needs of corporations in the areas of information technology management or complex project management. To realize my career goal of learning complex information management methods, I clearly must enhance my abilities in these as well as other areas of business.
Pursuing a course in MIS in your University will provide me a vibrant, creative, stimulating and challenging environment with a high degree of sophistication and matchless charm. Besides this, the quality of teaching, infrastructure, accommodation services, student support and career services are at their best as per international standards. It is therefore, just the right place that will equip me with unparalleled academic and professional skills and will enhance my personal growth as a Business Technologist.
Upon graduation from the University, I will seek a position as a Systems Analyst with leading organizations, working on complex projects and also interact with various clients to understand their business and provide a suitable solution. In three to five years, once I have become adept in the analyst role, I will move into a senior position focusing on decision support systems, resource and people management applications, Enterprise Resource Planning, Supply Chain Management, Customer Relationship Management, and Project Management. Here I will develop my abilities to anticipate client needs and to engineer solutions that address these needs. In approximately ten years, I will have the experience necessary to take on Senior Managerial responsibilities or even become a business entrepreneur.
The undergraduate years and experiences to date are just the beginning of the path that leads to the realization of my dream of a successful career as a Systems Consultant. To this end, I sincerely believe that I possess basic aptitude, discipline and perseverance to sustain the motivation and drive needed for such a career. The interdisciplinary nature of the program will give me the opportunity to gain insights in diverse realms and will allow me to build on my project management and technical skills, along with providing me with a broad business vision.
If given the opportunity, I am confident that I will uphold the academic excellence of the department with my capabilities and diligence. I sincerely hope the admissions committee will share my confidence and give me the privilege of continuing with my studies at this esteemed institution.