Steps To Prevent Baby Dumping Cases Essay Sample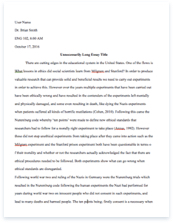 The whole doc is available only for registered users
OPEN DOC
Download Essay
A limited time offer!
Get a custom sample essay written according to your requirements urgent 3h delivery guaranteed
Order Now
Steps To Prevent Baby Dumping Cases Essay Sample
A. Steps to prevent baby dumping cases
1. Parents should pay more attention on their children
Parents have to monitor their children's activities and behavior. They should guide them with some sex education and also teach them to differentiate between correct and wrong things to do in any situations. Besides that, they should spend more time communicating with their children to give a better understanding of what their children are actually doing. Restrict the number of pornography websites in our country
Pornography is one of the ways which lead to baby dumping. Teenagers could access to pornography in just a few clicks on the internet. The parties who are involved should ban some of the pornographic websites, so that teenagers will not be able to access to pornography. 2.2.3 Moral behavior by the parents
Parents play an important role to educate their children about sexual behavior, the way to stay out of sexual relationships and how dangerous is unprotected sex. All these must be explained to the children and they will be able to do things rationally. Parents should teach them the way to prevent pregnancy and what will happen when the children have free sex. 2.2.4. Sex education in school
The school should provide proper sex education to the students so that they will know how important is his or her body and relationships. The students have to know more about sexually transmitted diseases such as HIV and AIDS and how it affects human's body. The school counselor should always be ready to guide the students and lead them to the correct way. 2.2.5 Teenagers should learn self control techniques
Teenagers nowadays normally will not able to think rationally because they are not mature enough to make decision. They should learn all the techniques of self-control to prevent them from having unprotected sex or sex before marriage that will cause unwanted pregnancy. They have to control themselves because they have the right to say 'NO' if someone offered sex. They should attend youth camps and campaigns so they will able think rationally. 2.2.6 The government should organize campaigns and talks
The government should organize more campaigns and talks and encourage more students to join to educate them with the knowledge of sex education and the effect of baby dumping to themselves, the community and the country to create awareness among the teenagers about baby dumping and free sex. 2.2.7 Create awareness through mass media
Mass media is also a very important way to prevent baby dumping. This is the best way to educate and communicate with the teenagers. The mass media department can organize some programs for teenager on television or radio about the importance of protecting themselves from getting involved in sex by providing them useful information and knowledge. Moreover, they can invite psychologist and sex therapists for some special programs on sex education to have more personal discussion and allow the public to call on-air for a 'call session' if they have any hesitation about sex.
2.2.8 New rule should be formed
The government should form a new rule to restrict the teenagers below 18 years old to check-in hotel or motel without parents or guardian so that the free sex can be reduced among the teenagers so that they will not able to check in to a hotel to do something that will destroy their future. This can also prevent cases like violation to happen.