"The Glass Menagerie" by Tennessee Williams Essay Sample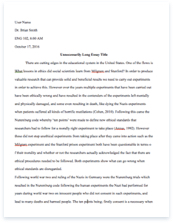 The whole doc is available only for registered users
OPEN DOC
Pages:
Word count: 631
Category: play
Download Essay
A limited time offer!
Get a custom sample essay written according to your requirements urgent 3h delivery guaranteed
Order Now
"The Glass Menagerie" by Tennessee Williams Essay Sample
            The famous line —"You live in a dream; you manufacture illusions!" (Williams 507)— uttered by Amanda, the matriarch of the Wingfield family, to her son Tom plays a pivotal part in Tennessee William's The Glass Menagerie.
The play is set in the 1930's. It presents a story of a dysfunctional family in St. Louis.  The Wingfields is a household maintained by a single parent.  The father had left the abode about sixteen years earlier yet his presence still lingers and pervades the entire family's lives.  There is the mother Amanda, a neurotic nagger in denial of what is obvious in front of her;  Tom, the only son, who bears the burden of being the family breadwinner in the absence of his father; and Laura, the fragile daughter on her way to be an old maid.
From the beginning, one can sense that there is already the tension building among the characters.  Amanda's nagging is like a necessary evil to the Wingfield household and it is her famous line to Tom that shatters their already brittle relationship.
Tom is nicknamed "Shakespeare" by his Continental Shoemakers co-worker, Jim O'Connor.  This moniker proves to be quite a description of Tom's personality. He has a poet's heart and an adventurous spirit.  He dreams of becoming a member of the merchant marine perhaps as an escape from the drudgery of his existence.  He longs to break free from the responsibility that he feels have chained him to his family.
Throughout the play, Tom's character is that of an escapist.  He always disappears at night to "go to the movies", a double-edged act perhaps both to run away from the reality of his family life and to indulge, at least even for a while, in his secret longing for his own life, his own personal adventure.  He also is starting to mirror his father by resorting to drinking.
Notice must also be given that there are many lines in the play that are written in a repetition style: "Go to the movies, go!" (Williams 507), "Laura, I've told you never, never to use that word" (Williams 449), "What right have you got to jeopardize your job? Jeopardize the security of us all?"(Williams 453).  This style further heightens the creative tension in the play.
"You live in a dream; you manufacture illusions!" (Williams 507) is a necessary line whose function is to tear down both character's illusions of themselves.  With Tom, it is a line that opens the door to his confrontation with his real self, what he wants, how he wants to live his life, and where he wants to take himself to.  It serves as the jolting point of Tom's liberation. To Amanda, it is the verbalization of her own illusions: her lost youth, the opportunities she failed to seize while she was then the typical Southern belle, the hope of her daughter ever marrying a respectable gentleman.  The line speaks back to Amanda who blinds herself to the harsh realities she is facing (Laura being crippled and the possibility of being unmarried for the rest of her life, real financial difficulties, Tom's growing self-determination) which she will soon perhaps come to terms with.
The line also spells the end of the road for both mother and son for after this is spoken in the last scene, Tom storms out of the Wingfield house never to come back again.  It is a crucial line that either could mean a burning of bridges or an avenue of reconciliation for Tom and Amanda.  Clearly, it becomes the former.
Works Cited
Williams, Tennessee. "The Glass Menagerie." Six Great Modern Plays. New York: Dell
Publishing Co., Inc. 1970.  435-512.