The history of one successful tennis player Essay Sample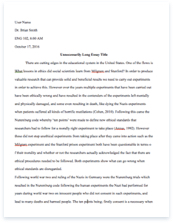 The whole doc is available only for registered users
OPEN DOC
Download Essay
A limited time offer!
Get a custom sample essay written according to your requirements urgent 3h delivery guaranteed
Order Now
The history of one successful tennis player Essay Sample
Roger Federer, a Swiss professional tennis player and victor of 18 Grand Slam singles titles, which is the name for the largest tournaments in tennis, is an inspiration for many players throughout the world including myself because of his journey to become the world No.1 and his ability to overcome obstacles during this journey (Biography.com Editors). Because of his skill, charisma, and success, Federer's legacy will remain influential to the future of tennis and its players forever (Koeppel). Though, Federer's accomplishments were not achieved easily, for throughout his life he would experience a series of hardships that would act as obstacles to his goal of becoming the world No.1 (Koeppel). Not only does Federer inspire players throughout the world, but he also inspires me to become a better tennis player because even though he was confronted with multiple obstacles that tried to prevent him from becoming a better player, he continued to train and achieve his goals while maintaining a humble and personable attitude. I strive to become more like Federer not only on the tennis court, where I try to imitate the amount of skill, effort, determination and focus that he would have in his own matches but also in my daily life off the tennis court.
Before Roger Federer became an inspiration to players throughout the world and myself, Federer struggled with cycles of defeat and victory as he developed into a successful tennis player. Federer was born in Basel, Switzerland and became interested in tennis at the age of eight after watching his childhood hero, Boris Becker, play at Wimbledon (kidzworld.com Editors) Brady 2
Federer was described as a hothead as a child and was known for often breaking his racquets when met with defeat (kidzworld.com Editors). Peter Carter, a retired Australian player, coached Federer during his childhood and guided him to become the top junior player in the world during this time. Federer turned pro in 1998 and in his early career he achieved some minor victories against highly ranked players, but these victories were short-lived and often accompanied by an embarrassing defeat. Losses began to have a lasting effect on Federer's mental game as he lost repeatedly, which caused him to lose more matches. In 2002, Peter Carter, Federer's mentor, and coach died after a disastrous car crash during a South African vacation (kidzworld.com Editors). Federer was devastated by his death of his old friend, and many believe that this point in Federer's life was the time of his transition from boy to man (kidzworld.com Editors). After the death of Carte, Federer will focus directly on improving his mental game and keeping calm on the court. By 2004, Federer finally achieved his goal of world No.1 and will hold this title for over four years. (Koeppel) Today, Roger Federer has dropped to the No. 9 ranking because of a series of injuries and old aging. (Koeppel) Even at his old age of 35, Federer stills remains an inspiration to myself and others because of his ability to overcome obstacles and reach his goals.
Roger Federer's feat against his obstacles personally inspires me because the problems in my own game are very similar to what he were. Anytime I lose a match it is usually because of my lack of mental focus, which occurs when I am angry at myself for missing the previous shots and allowing the opponent to get a lead. During his early career, Federer would have this same problem, which would cause him to lose long matches and remain in the locker room for hours banging his head against the wall because of his frustration (kidzworld.com Editors). After Peter Carter's death, Federer was able to completely change his attitude on the court. (Koeppel) Because of this Federer began to win his first major titles after overcoming his mental obstacles. Brady 3
Federer inspires me to overcome my own mental obstacles during my matches as he did, which will allow me to become a better player. Federer also inspires me to continue to work towards my goals, even after those goals may seem impossible. In 2016 Federer suffered a knee injury, which prevented him from playing for six months (Biography.com Editors). Federer resumed recovered from his injury in 2017, and fans believed that he would quietly close out the season with an early loss at the last Grand Slam of the season, the Australian Open. Federer shocked the world and claimed victory at the 2017 Australian Open Championship (Biography.com Editors).
The qualities of Roger Federer should be duplicated by any player who wants to be successful in any sport, and each day on and off the court I try to play and act as Federer would. Federer shows that politeness and charm to everyone, even opponents and oneself is needed to succeed in both life and tennis. Each day I watch videos involving the various strokes of Federer and I try to imitate his techniques and footwork while I am practicing. With the inspiration that Federer has given me, I was able to reach within the top one hundred rankings in the Eastern Region of the US. Today, I look to continue to improve my game by following Federer's life journey and qualities.
Roger Federer ability to overcome the obstacles that confronted him and achieve great success remain as an inspiration for players throughout the world including myself. Because of his skill, charisma, and success on the court and his ability to bounce back and adapt after defeat, Federer's legacy will forever remain influential to the future of tennis, its players, and me as I train to become a better player. Today, as seen through Federer, sports are won through mental strength, not physical dominance. Each competitor at the professional level is as athletic and strong as the next, and the only way to achieve this mental strength is to learn from the right role Brady 4
models.