The Importance of Play Essay Sample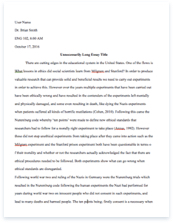 The whole doc is available only for registered users
OPEN DOC
Pages:
Word count: 371
Category: play
Download Essay
A limited time offer!
Get a custom sample essay written according to your requirements urgent 3h delivery guaranteed
Order Now
The Importance of Play Essay Sample
Play is very important for children to develop their social, physical, cognitive, and emotional skills. I think play allows children to learn how to share, problem solve, and role play. An example of this is a child caring for a baby doll's needs or pretending to cook. This also helps to build self esteem, as the child masters the skill. I would demonstrate this to parents by sitting in the housekeeping area and asking the children to make me lunch. I would request a blue plate for my food and the yellow cup for my drink. This would help teach them their colors, as well as simple household chores, like doing the dishes, folding towels, and putting things away.
Another way I would demonstrate the importance of play to parents is by putting in a movement CD at circle time, and let them see the children having fun while enhancing their listening skills. I would tell the children the wrong move, and they would say "that's not it…its' walk, run, hop, etc.. This would show the parents they are listening and predicting what comes next. This also shows that they are developing their large motor skills while following the directions to do different movements.
To demonstrate how fine motor skills can be developed through play, I would put out puzzles, play dough, and clothespins to pick-up pom-poms. I would also demonstrate fine motor skill development by helping children use scissors.
I would also show parents that it is okay for a children to have free play time. This enables them to direct the play at their pace. It also helps children to solve conflicts with peers, play with things that interest them, and make choices. Also through free play, a child with a language barrier will be better able to communicate with the other children.
It may seem as though children are just playing all day, but in reality they are learning the whole time. Some of the things they are learning are; colors, shapes, numbers, listening skills, large motor skills, and decision making. Developing these skills is an important part of a child's growth, so that is why play is so important to children.