The Wilderness Worth Saving Essay Sample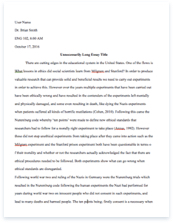 The whole doc is available only for registered users
OPEN DOC
Pages:
Word count: 308
Category: Wildlife
Download Essay
A limited time offer!
Get a custom sample essay written according to your requirements urgent 3h delivery guaranteed
Order Now
The Wilderness Worth Saving Essay Sample
            The desert is one of the toughest places on earth and yet, interestingly, some people seem to enjoy strolling across miles of desert sand under the blistering heat of an unobstructed sun. This is what Edward Abbey is pondering on and later, confesses to be guilty of, in his article, "The Great American Desert." "The Great American Desert is an awful place. People get hurt, get sick, get lost out there," he said as he expounds why the desert should be left to be enjoyed only in the movies. The wild, poisonous animals and the intense sun exposure that pushes anyone at risk of skin cancer, the desert is truly not the ideal place for a family vacation. However, despite his own warnings, he proclaims to be a proud desert wanderer himself. He throws his motto of preparedness out of the window and indulges himself with this rough and dry nature. So why would he bash the desert and enjoy it at the same time?
It may seem that he wants the desert for himself. His reasons are as complex as his intentions but the message he wants to convey is clear. "To save what wilderness is left in the American Southwest," Edward declares. The desert is what it is, "spare, rough, wild, undeveloped, and unbroken" yet Edward states with conviction that is worth defending against city developers, weapon testers, miners, oil drillers and even the "damn beavers." These people may ask, "What is there in the desert worth saving?" This question Edward gladly answers and he says it is because there is "nothing out there. Nothing at all. Nothing but the desert." This may come across as odd but for Edwards, in the American Southwest, the desert is the only wilderness worth saving – and he has a point.